Toyota Land Cruiser 200 (2015) Photo & Video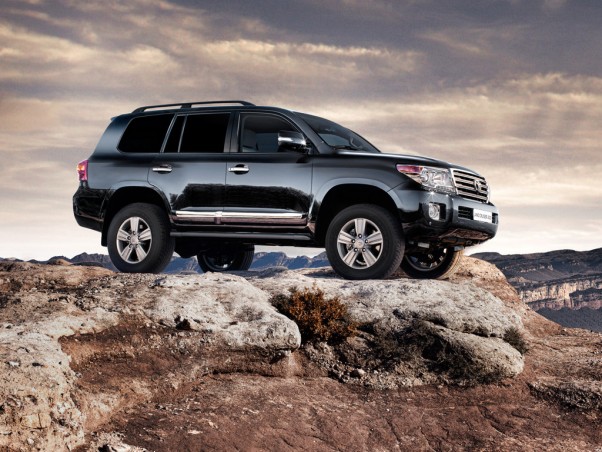 In August 2015 the legendary SUV Toyota Land Cruiser 200 has once again experienced a restyling, although there has been no radical changes. The front part has changed most noticeably, with new headlights, grille and hood, but from the behind the car has changed insignificantly – with slightly redone lights and hardly corrected form of the trunk lid.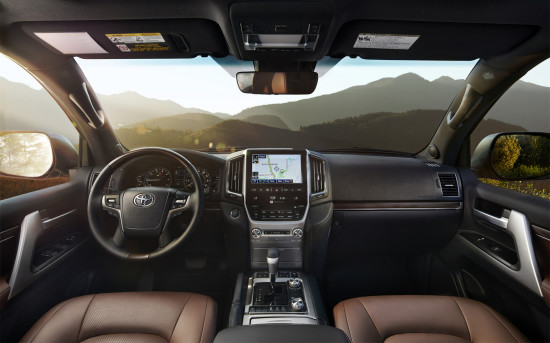 The silhouette of Japanese SUV stands out with monumental contours with discs of 17 to 18 inches. Its length is 4950 mm, width reaches 1980 mm and a height fits into 1955 mm. The minimum ground clearance is secured at the level of 230 mm. A curb weight of the "Japanese" crosses over 2.5 tons – from 2582 to 2815 kg depending on modification.
No revolution has happened to the interior either, though the new version of Toyota Land Cruiser 200 has received a number of new options and better finishing materials. The atmosphere of harmony and luxury inside the cabin is provided by smart design and high quality materials. Technology characteristics of SUV have remained virtually untouched, but the list of its equipment has added some extra points.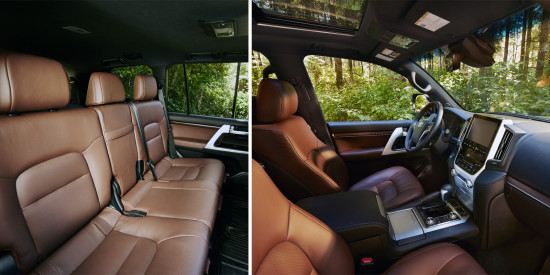 Under the hood, the base SUV has a gasoline atmospheric V-shaped "eight" with volume capacity of 4.6 liters, equipped with an aluminum cylinder block, a system of direct fuel supply and variable valve timing technology. The engine generates up to 309 horsepower at 5500 rpm / min and 439 Nm of torque at 3400 rev / min. Together with a 6-speed "automatic" and AWD transmission, it accelerates from zero to 100 km / h in 8.6 seconds and allows to gain 195 km / h of "maximum speed". Fuel consumption equals 13.9 liters per "hundred" in the combined driving conditions.
The alternative variant is presented by diesel engine "V8" with a twin-turbocharged, direct-injection of diesel fuel under pressure of Common-Rail, which at the amount of 4.5 liters produces 249 hp at 2800-3600 rev / minute and 650 Nm of rotational traction sold in the range of 1600 to 2600 rev / minute. This engine works in cooperation with automatic transmission and all-wheel drive. "Solid fuel" Toyota Land Cruiser 200 turns its first "hundred" in less than 9 seconds, reaches its maximum speed at 210 km / h and on average "eats" about 8 liters of fuel in a mixed mode.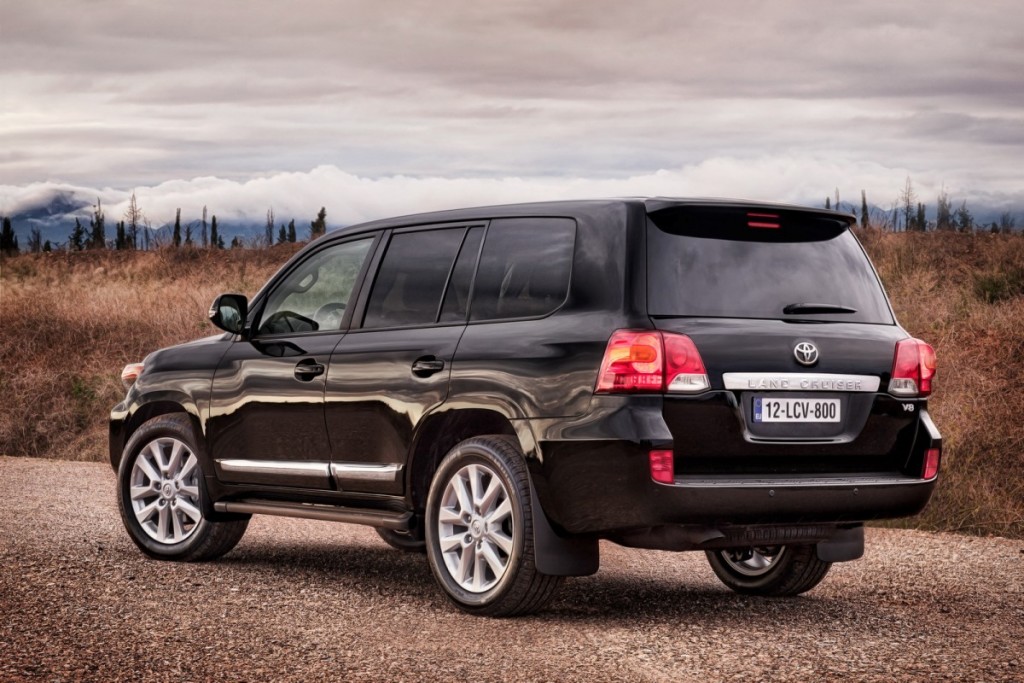 The Basic version of Toyota Land Cruiser 200 with petrol "eight" has six airbags, dual-zone "climate", LED headlamps, power windows on all doors, rain and light sensors, as well as Multi-terrain ABS, EBD, BAS, A-TRC, VSC systems. "Elegance" Version "flaunts" with leather interior, three-zone air conditioning system, heated front seats, electric drive and ventilation, parking sensors and a multimedia complex with a 9-inch screen. As an option, the new SUV might be equipped with a so-called «Safety» pack, combining adaptive "cruise", automatic braking, driver fatigue monitoring, Traffic Sign Recognition and Lane Departure.
There are photos of the
interior and exterior of the car Toyota Land Cruiser 200 (2015)
category TOYOTA posted on the site. All photos of the car Toyota Land Cruiser 200 (2015) can be downloaded for free on the PC.