Porsche Panamera E-Hybrid (2017) Photo & Video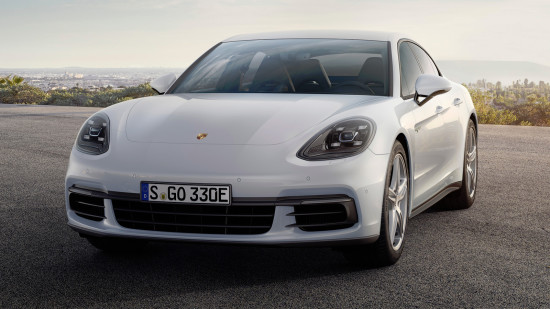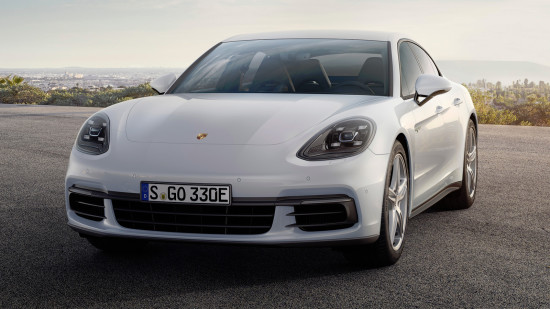 Porsche Panamera E-Hybrid – is the AWD premium sports car belonging to the European «F»-class. Its gasoline-electric engine embodies the true spirit of Porsche and modern hybrid technologies responsible for fuel economy.
The world premiere of the "basic" second generation Porsche Panamera – the "4 E-Hybrid" – took place in the end of September 2016 on the stages of Paris Motor show. Compared to its predecessor, the new model has changed severely, with a power plant based on918 Spyder supercar operation algorithm as the main "highlight".
Hybrid Porsche Panamera can be cidentified merely by its light green calipers of brake system, inscriptions on the trunk lid of similar color and the «e-hybrid» logos on the front seats. In every other characteristic it looks equally catchy, "muscular" and sporty, like the models with internal combustion.
2nd generation Porsche Panamera E-Hybrid is provided in both standard and increased wheel base (Executive): in length the car extends to 5049-5199 mm, its height does not exceed 1423-1432 mm, width fits into 1937 mm. The distance between the wheels reaches 2950 or 3100 mm.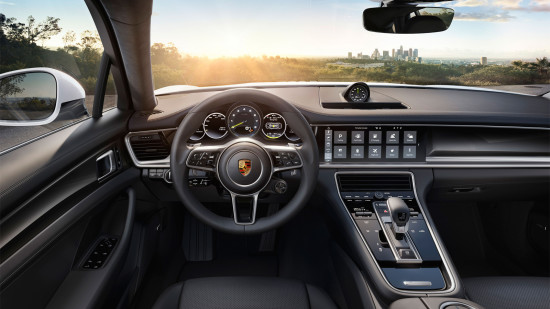 The interior of the "green" novelty is identified only by petty touches – like «Power-Meter» pointer posted on the dashboard, informing the driver of recovery and power consumption. In general – it's the same spectacular "apartments" with premium interior materials and flawless level of assembly.
Regardless of the modification the interior of Porsche Panamera E-Hybrid is strictly a four-seater. The luggage capacity in versions with a standard wheel base varies from 405 to 1245 liters, while the "Executive" version can boast from 405 to 1391 liters of luggage space.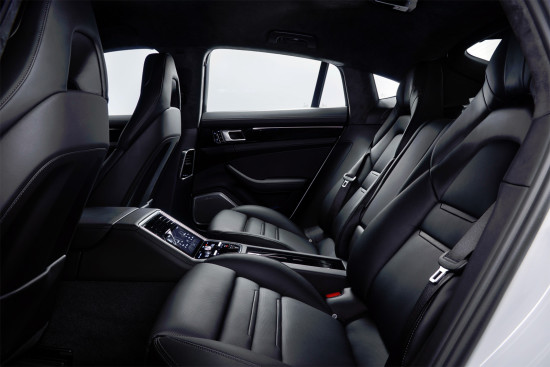 2nd generation Porsche Panamera E-Hybrid is offered with 2 gasoline-electric versions – basic "4 E-Hybrid" and a more powerful «Turbo S E-Hybrid», which are equipped with 8-step PDK "robot" and AWD transmission controlled by means of electronic multi-plate clutch.
The vehicle can move in four standard modes: «Hybrid Auto» – automatic determination of the source of driving force; «E-Power» – completely "green" mode (always activated for the start); «E-Hold» – maximum possible preservation of battery reserves; «E-Charge» – the use of maximum capacity of gasoline unit for "saturation" of batteries. Two other modes «Sport» and «Sport Plus» allow to "squeeze" the maximum capacity out of the hybrid drive.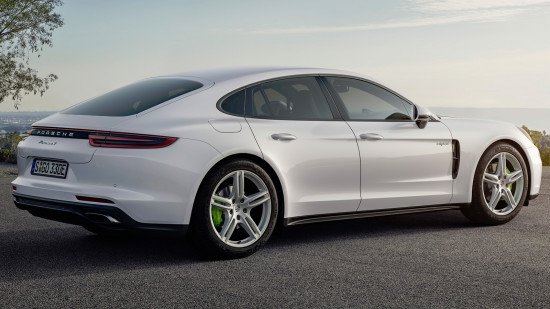 The electric charge is enough for 50 kilometers, but the maximum speed in the "green mode" is limited to 140 km / h. The "refueling" of batteries from a household power outlet will take about 6 hours, and the help of special quick charge device this time might be reduced to 2.4 hours.
There are photos of the
interior and exterior of the car Porsche Panamera E-Hybrid (2017)
category PORSCHE posted on the site. All photos of the car Porsche Panamera E-Hybrid (2017) can be downloaded for free on the PC.