Volkswagen Atlas (Teramont) Photo & Video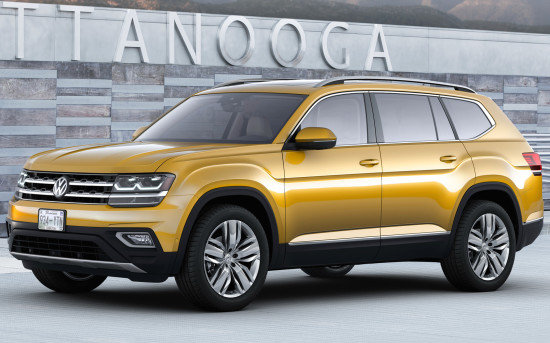 October 27, 2016 at a special event in Santa Monica the Volkswagen Company has unveiled its seven-seater giant Atlas, which has surpassed in size not only Touareg model, but also all its main competitors. A few days later, the Chinese division of the brand has presented its counterpart for the local market under the name Teramont, which has received a different power scheme.
The exterior of the giant crossover is based on the CrossBlue concept model presented in early 2013, – outside it looks lovely, monumental and deliberately brutal, and its huge body impresses with a relief shape, balanced proportions and concise lines.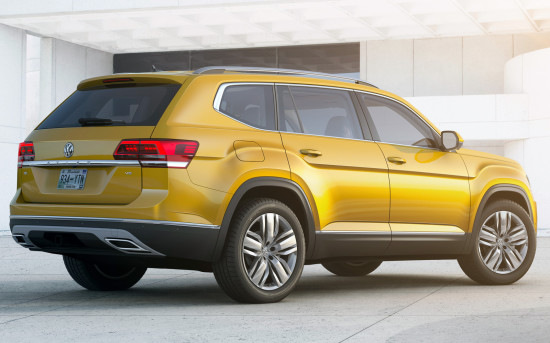 According to American standards Volkswagen Atlas took a place somewhere on the border between the medium and full-size SUV: its length, width and height extends to 5037 mm, 1979 mm and 1768 mm respectively and its wheelbase reaches 2980 mm.
Inside the "Atlas" is a typical Volkswagen SUV featuring simple, concise design and meticulous attention to detail ergonomics. The car's interior is made of sturdy materials, though soft plastic is applied only on the window sills of the front doors, and other components are made of hard plastic.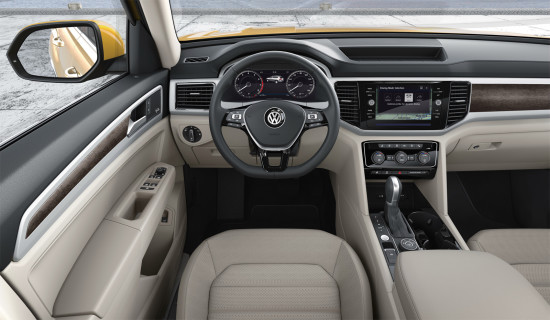 One of the main advantages of this off-road vehicle – a spacious interior with three rows of seats. Front seats are endowed with convenient forms with "relaxed" side support and comprehensive range of adjustments; the middle sofa is shaped properly and is able to accommodate three adult passengers.
Even with the seven-seat layout Volkswagen Atlas cargo compartment does not become "conditional", and with hidden in the floor seats of the second and the third row (forming a completely flat site) its volume reaches 2740 liters.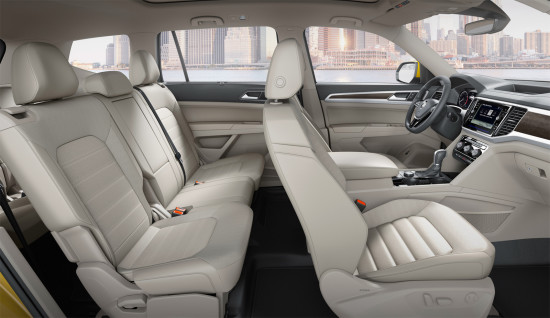 In the US market Volkswagen Atlas will be offered with 2 petrol units: 2.0-liter turbo TSI "four" with direct-injection and 16 valves developing 241 horsepower, and the 3.6-liter naturally aspirated VR6 unit with distributed "power", issuing 284 hp. Both engines are coupled with Aisin 8-band "automat".
The "Chinese" Volkswagen Teramont has entirely different balance of power: it is "armed" with petrol four-cylinder 2.0 TSI with a turbocharged direct injection, generating 186-220 "mares" and 320-350 Nm of torque, as well as V-shaped 2.5-liter "turbo four" issuing 299 "horses" and 500 Nm of peak thrust.
In the US, sales of Volkswagen Atlas will start in spring 2017 at a starting price of 30 thousand dollars. Already in the "base" the crossover will get a "scattering" of airbags, LED lights, dual-zone "climate", information and entertainment center, a seven-seat interior, electric windows on all doors, sound system, alloy wheels, ABS, EBD, Brake Assist, power steering and other equipment.
There are photos of the
interior and exterior of the car Volkswagen Atlas (Teramont)
category VOLKSWAGEN posted on the site. All photos of the car Volkswagen Atlas (Teramont) can be downloaded for free on the PC.