Toyota Hilux 8 (2016)   Photo & Video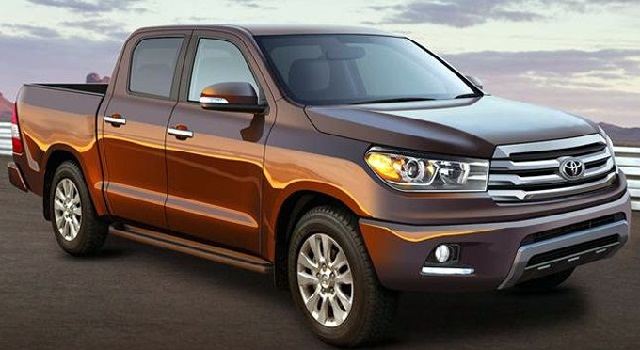 The eighth generation of one of the most popular pickups in the world Toyota Hilux has officially made its debut on May 21st, 2015 simultaneously in Bangkok and Australia. The novelty got a modern appearance coupled with a thorough revision of its technical inside starting with a frame and finishing with power plants.
A generational change had positive impact on the exterior of Hilux – the car general appearance has become prettier and more up-to-date, with a style close to Toyota light model vehicles. One should especially notice its narrow projector type headlights with LED "garlands", a small radiator grille with chrome lining and a raised bumper with air intake bars.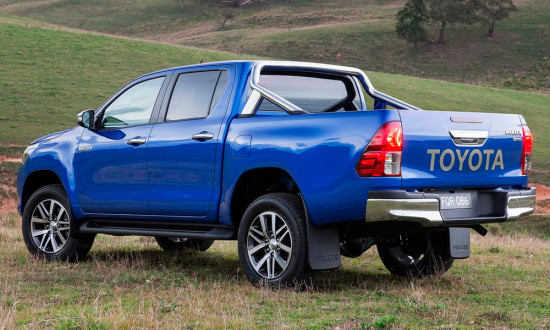 In general, the pickup looks modern and interesting; regardless of the type of car (there are three of them – single, double and a sesquialteral). The length of 8th generation Toyota Hilux in a Double Cab version reaches 5335 mm, height – 1820 mm, width – 1855 mm, with a value of the wheelbase of 3085 mm. The maximum loading depending on the car version is up to 1240 kg and the weight of towed trailer may reach 3.5 tons.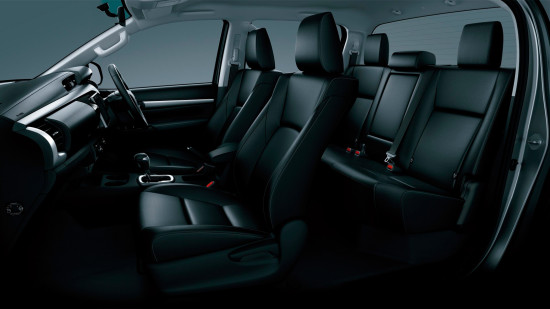 The interior of Toyota Hilux 8 causes even more positive emotions than its exterior. The front panel is decorated in a minimalist, but also smart style which is achieved through the use of decorative metal elements.
The first thing that draws attention is a 8-inch "tablet" multimedia complex in the center of a dashboard, which is in charge of a good range of functions. Climate control is represented by rotating washers, large buttons and a separate display. Multifunctional steering wheel, in the style of the latest models of the brand, fits well into the concept of interior decoration, as well as an expensive dash panel insert with a pair of key dials and informative "scoreboard" in the middle.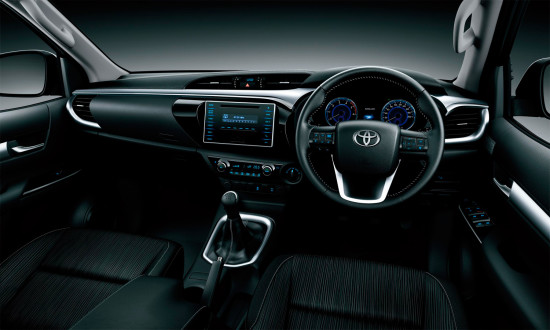 Toyota Hilux of the 8th generation salon has received an increased level of comfort as well as high quality materials: good leather interior and metal inserts. The first row seats aside from a wide range of settings, have advanced literate profile support on each side. The second row is set up with a triple sofa with enough of spare space on all fronts.
A pickup is equipped with a line of two petrol and two diesel units, combined with a 6-speed "mechanics" and "automatic" plus rear- or four-wheel drive. Full power transmission is equipped with two-stage transfer case with an underdrive and a locking rear differential that should serve as a good stepping stone on the roads.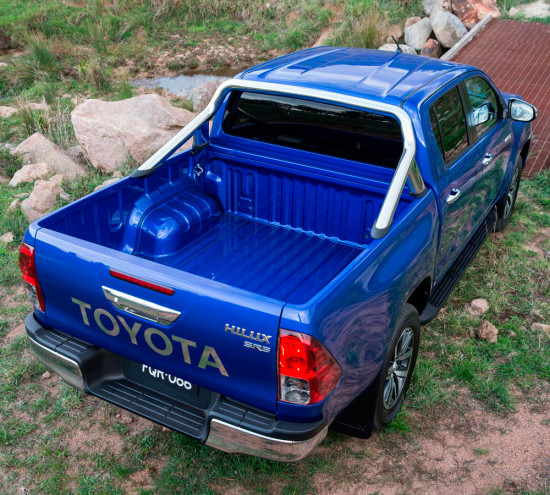 Toyota Hilux 8 can boast a rigid steel frame and an improved chassis. The car is aggregated with independent double wishbones and a stabilizer bar in front and a spring structure with two shock absorbers on each side of the back. The pickup has three configuration options for shock absorbers and elastic elements: Standard – for all kinds of roads, Comfort – for asphalt and Heavy duty – for large loads. The hydraulic is implanted in the power steering system.
By its equipment components the car is nearly close to "the premium level" at least that's what was claimed by the Japanese manufacturer: seven airbags, LED head optics, multimedia center with touch screen, sound system, dual-zone 'climate' and many other bonuses. However, the majority of these options will be available only for the "top" versions.
There are photos of the
interior and exterior of the car Toyota Hilux 8 (2016)  
category TOYOTA posted on the site. All photos of the car Toyota Hilux 8 (2016)   can be downloaded for free on the PC.