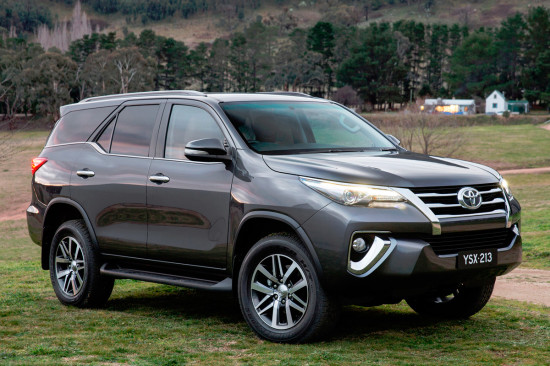 July 16, 2015 the Australian division of Toyota held an official presentation of the second generation SUV «Fortuner». 2016-year model has been drastically changed externally and internally, seriously upgraded technically, and received a lot of modern equipment. In October 2015 the novelty will become available in Australia and Thailand, but still there is no information on other markets.
Dressed in a new corporate style of Japanese brand, the second generation Fortuner is far more attractive than a predecessor, although it definitely could not be called "handsome". Narrow angry "narrowed" head optics, "fangs" on the front bumper, sweeping contours of the rear lights, placed on a monumental stern. And if you add to this a "window sill" line with splashes over the rear wheels and an abundance of chromium in the design of the body, you'll receive a typical SUV image.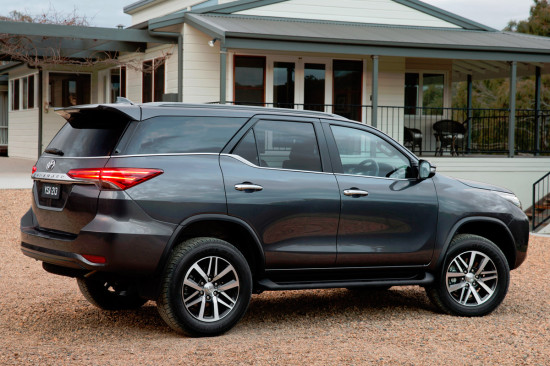 Along with a change of generations, the new Fortuner has markedly increased in the outer dimensions: 4795 mm long, 1855 mm wide and 1835 mm high. The wheelbase car fits into the 2745 mm and clearance underneath in a stowed condition is fixed at 225 mm. Wheel discs dimensions: 17 or 18 inches.
The interior of the 2nd generation Toyota Fortuner very much resembles the latest brand models: multifunctional multi-wheel with three spokes, beautiful "shield" with optical-tronic devices, on-board computer display and a modern center console with a 7-inch display and multimedia complex block of dual-zone control "climate". The electronic watch is placed at the top of the front panel.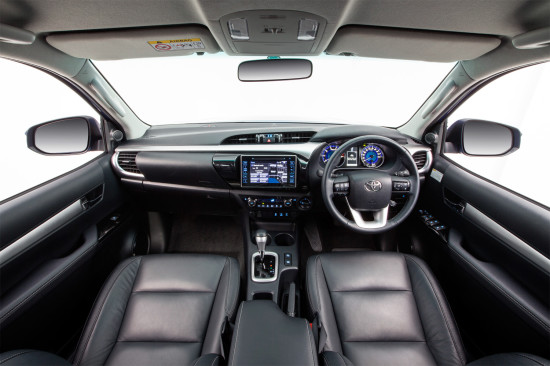 The interior of the SUV encounters sturdy plastics, "metal" accents on the dashboard and high-quality leather, which is used in expensive versions for trimming of seats, steering wheel and gear lever. All versions of the 2nd generation Toyota Fortuner have a seven-seated saloon configuration: comfortable front seats, three-back sofa divided by 60/40, and a "gallery" folding flush with the floor.
Customer will be able to choose one of three possible engines: two variants of four-family GD diesel (with direct Common Rail fuel injection, a turbocharger with variable geometry, mounted in a block head of exhaust manifold and a 32-bit controller) and an atmospheric petrol engine with a volume of 2.7 liters. In addition to diesel engines customers will be able to choose between a 6-step "mechanics" and a 6-step "automatic", while petrol version will be available only with a manual gearbox with five gears.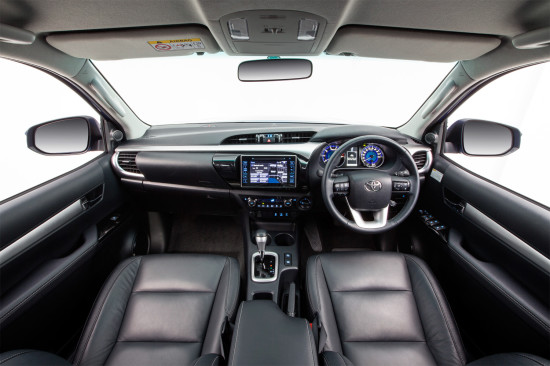 In technical terms, the 2nd generation Toyota Fortuner is a close relative of the "8th Hilux", but does not copy it completely. The seven-seat SUV with a steel frame is equipped with an independent front and rear suspension. Disc brakes with ABS and EBD are installed on each of the four wheels, and the front ones are supplemented with additional ventilation.
The basic version car "flaunts" with a dual zone "climate", a rearview camera, seven airbags, a multimedia complex with touchscreen and 17-inch "rollers". The "Premium" version customers will be able to choose between a panoramic roof, LED headlamps, electronic power tailgate, speed control function during the descent from the mountain, direct access system and 18 inches rims.