Opel Ampera-e (2017) Photo & Video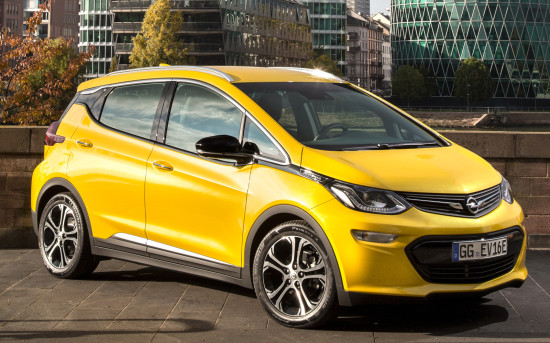 The electro-hatchback Opel Ampera-e – is a "twin brother" of five-door Chevrolet Bolt EV, which was first shown to the public at the international Paris Motor Show in late September 2016.
Ampera-e belongs to the class of "subcompact cars" and has the following dimensions: its length extends to 4166 mm, width – to 1765 mm, height – to 1594 mm. The distance between the wheel pairs of the German hatch fits in 2600 mm, and its ground clearance is only 115 mm. The curb weight of the five-door reaches 1625 kg.
The interior of the novelty is "impregnated" with minimalism, and the prime rate is made on modern technologies. But if the design is clearly a strong point of the electric hatch, its finishing materials on the contrary – is a weak one: even in "top" versions of the car the interior is made of booming plastic and slippery skin.
Ampera-e is nominally a five-seater, however the back row of seats is able to accommodate only three subtle passengers, while the front passengers are offered a comfortable seating area with an optimally developed relief and a decent set of adjustments.
Opel Ampera-e luggage compartment can boast a solid volume – 478 liters in a standard form. When folded the second row of seats increases cargo space to 1603 liters.
In the engine compartment of the German hatch there's a three-phase synchronous electric motor with permanent magnets and "double" axis, issuing 204 "horses" (150 kW) and 360 Nm of torque. It is "powered" by a set of lithium-ion batteries with capacity of 60 kW / h (288 flat cells arranged in 10 modules) with a liquid cooling system.
To the first hundred the electric car accelerates in 7 seconds, and from 0 to 50 km / h "shoots" in a record 3.2 seconds. But still its top speed is limited to 145 km / h.
According to the NEDC European standard the " autonomy" of the five-door reaches 500 km, but taking into account road and weather conditions, driving style and load capacity its real "range" is estimated at 380 km. For a full charge from an ordinary household outlet it requires 9 hours, while special charging stations can fill the "bins" to 50% in just 30 minutes.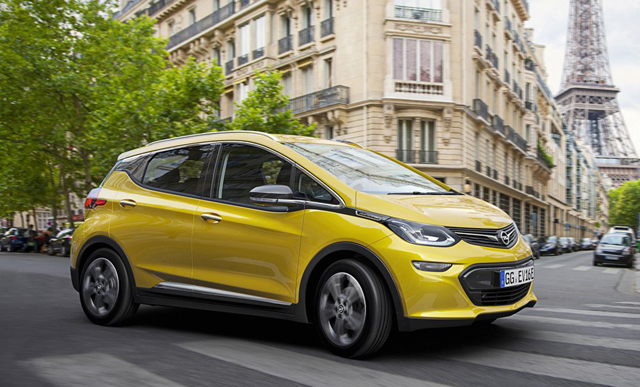 The standard set of equipment includes ten airbags, bi-xenon headlights, 17-inch wheels, ABS, ESP, EBD, two-zone "climate", multimedia center with Internet access, audio system, auto-braking technology, pedestrian recognition function and an impressive list of other equipment.
Additionally, customers might order "Comfort" and "Driver assistance" packages. The first one includes leather upholstery, heated front seats, and Bose "music", while the second – autopilot parking, rearview camera and blind zones detector.
There are photos of the
interior and exterior of the car Opel Ampera-e (2017)
category OPEL posted on the site. All photos of the car Opel Ampera-e (2017) can be downloaded for free on the PC.