Hyundai Tucson 3 (2016) Photo & Video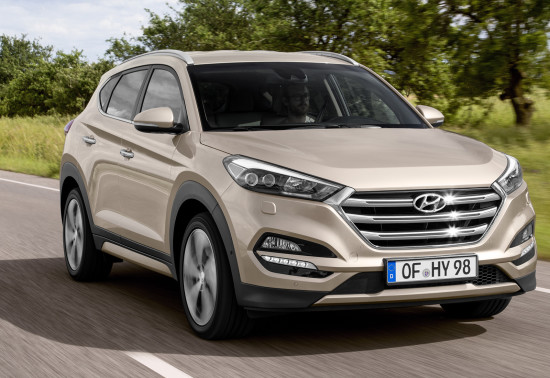 The new 3rd generation Hyundai Tucson, which predecessor was known under the name "Hyundai ix35", was first officially presented to public in March 2015 at Geneva Motoг Show, although its pre-premiere took place in Berlin one month prior to the event. The car has surpassed the previous model in all respects – it became bigger, more powerful, prettier and smarter.
Hyundai Tucson looks like a "stalwart" with a relief design and harmonious contours. Branded hexagonal grille, aggressive lighting fixtures with LED-elements entering away on the wings and sculpted bumper endow courage and expressiveness to the vehicle appearance, alluding to its sporty character.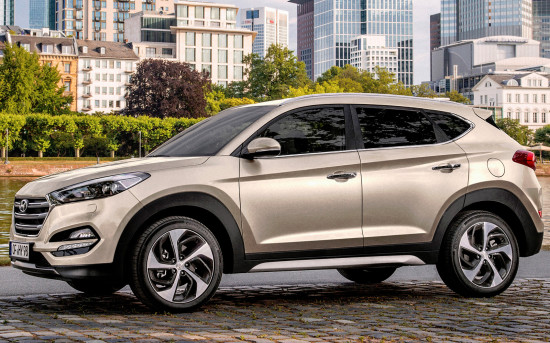 Third generation Hyundai Tucson is a representative of compact crossovers: 4475 mm in length, 1850 mm in width and 1645 mm in height with the wheelbase of over 2670 mm. Its minimum ground clearance is 182 mm. Depending on modification its "fighting" weight ranges from 1454 to 1854 kg. In a stowed state, the cargo compartment of the novelty can accommodate up to 488 liters of luggage.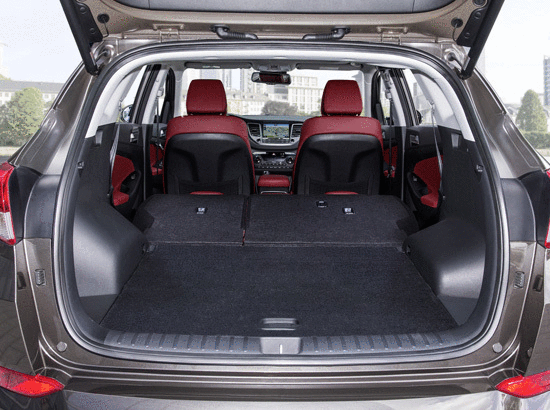 Inside the novelty has a strict, classical and modern design, absolutely perfect in ergonomic terms. Multifunctional steering wheel with a pronounced relief, informative tools with 4.2-inch "window" of on-board computer and a massive front panel with 8-inch screen and stylish climate unit in the center.
The interior of Hyundai Tucson will be available in three color options, and it is tailored primarily of high quality materials, although not without some hard plastics. "Top" execution "flaunts" with genuine leather with perforated inserts and decorative "metal-like" elements.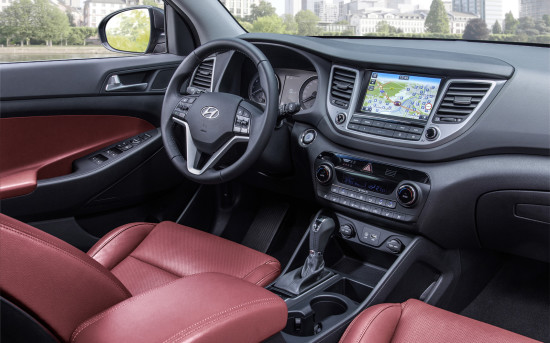 Front seats of the SUV feature an excellent and friendly profile and a wide range of adjustments. At the "gallery" there is sufficient stock of space in all directions, adjustable tilt back, individual ducts of "climate", and in "top"-modifications it is also complimented with dual-mode display.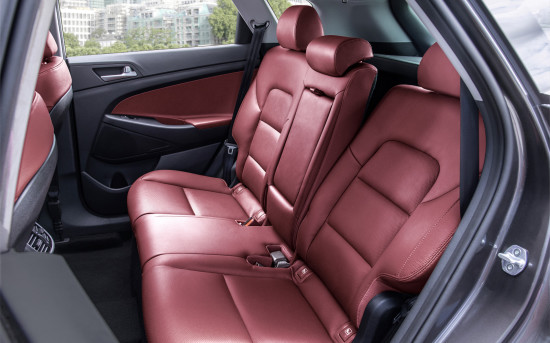 The car will be available with both front-wheel and all-wheel drive. The range of powertrains will include two petrol engines with cylinder capacity of 1.6 liters (132 and 172 hp) and 2.0 liters (149.6 hp) as well as 2.0-liter diesel CRDI, issuing 185 horsepower. Tucson's transmission range include by a six-step "mechanics", a six-band "machine" and an optional seven-step "robot".
The list of standard equipment includes ABS + EBD, six-airbags, curtain airbags, LED daytime running lights, function of assistance on starting uphill down the mountain, system of tire pressure monitoring and emergency braking, air conditioner, heated front seats and audio center.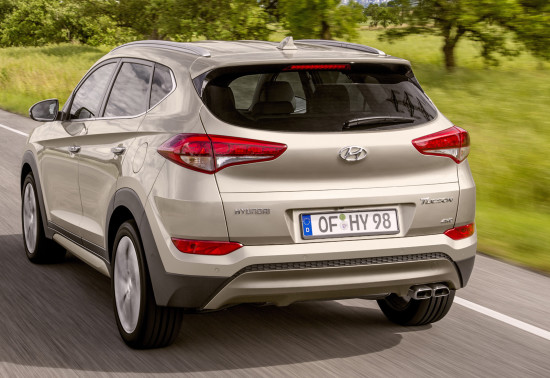 Sales of the new Hyundai Tucson will begin in late 2015. The crossover will be available in five modes: Start, Comfort, Travel, Prime and Prime High Tech.
There are photos of the
interior and exterior of the car Hyundai Tucson 3 (2016)
category HYUNDAI posted on the site. All photos of the car Hyundai Tucson 3 (2016) can be downloaded for free on the PC.