Dodge Viper (2016) Photo & Video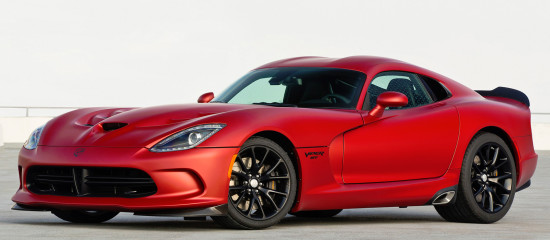 The aggressive design of the fifth generation "Viper" – is the obvious legacy of the original model, making the car completely recognizable even among thousands of other supercars. Unlimited hood, large air intake in the bumper divided by branded crosshair, shifted back cabin with "hump" on the roof, side exhaust and slab-sided stern – this gorgeous two-door novelty looks powerful and impressive.
The Fifth Dodge Viper is a two-door sports coupe with the following body dimensions: 4463 mm long, 1941 mm wide and 1246 mm high. Wheelbase of the American supercar fits into 2510 mm and the minimum ground clearance counts 127 mm.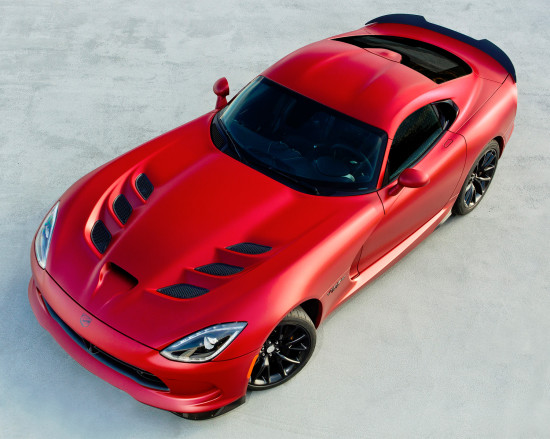 Magnesium and aluminum alloys were abundantly applied to the body and bonnet construction while the boot lid and roof are made of carbon fiber – as a result the weight of the base version equals 1521 kg.
The interior of "Viper" for the first time a long history of the brand corresponds to the high ranking of the car – it is not just beautiful and elegantly decorated, but also tailored with high quality materials. Just beyond "corpulent" multifunction steering wheel with truncated lower part there is a 7-inch color display with analog dashboard pointers on both sides. Baggy transmission tunnel dividing the cabin into two cockpits switches into stylish console with an 8.4-inch "TV" and the air conditioner unit.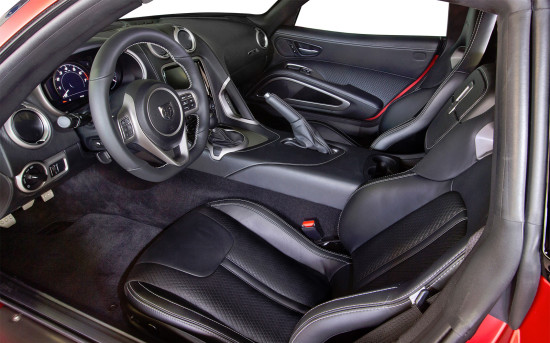 Under the hood of the novelty lies aspirated gasoline engine with ten V-shaped cylinders, aluminum structure and sequential fuel injection. Cubic capacity of the power unit is 8.4 liter (8390 cubic centimeters), and its peak output reaches 654 "horses" at 6200 rev / minute and 814 Nm of torque, implemented from 5000 rev / min. It is combined with a 6-speed "manual" Tremec TR6060 gearbox.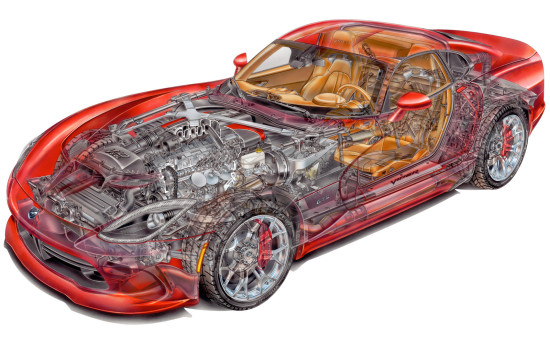 "The Fifth Viper" – is a real supercar with corresponding speed characteristics. The new "American" supercar reaches its first "hundred" in just 3.5 seconds, and its opportunities are limited at around 330 km / h. Consumption of gasoline on the highway is declared at the level of 11.8 liters per 100 kilometers.
The line of "Vipers" has a more extreme modification assigned the name of ACR (American Club Racing). The ACR coupe is equipped with the same engine as the standard version, but differs from it with the mass aerodynamic body kit elements; one of them is the giant rear wing.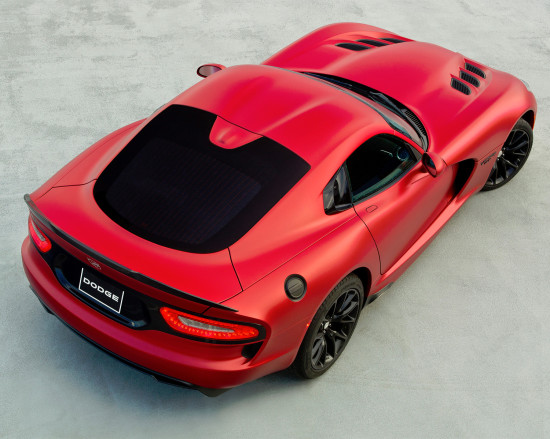 In US the basic version of the supercar costs from $89 090, GTS-version – from $107 995 and the ACR version – from $117 895. By default the new "American" is equipped with two airbags, zoned climate system, multimedia complex, traction control, ABS, ESC, bi-xenon head optics, analog-to-digital tools, factory audio system and other modern "chips".
There are photos of the
interior and exterior of the car Dodge Viper (2016)
category DODGE posted on the site. All photos of the car Dodge Viper (2016) can be downloaded for free on the PC.