Chevrolet Bolt EV (2016) Photo & Video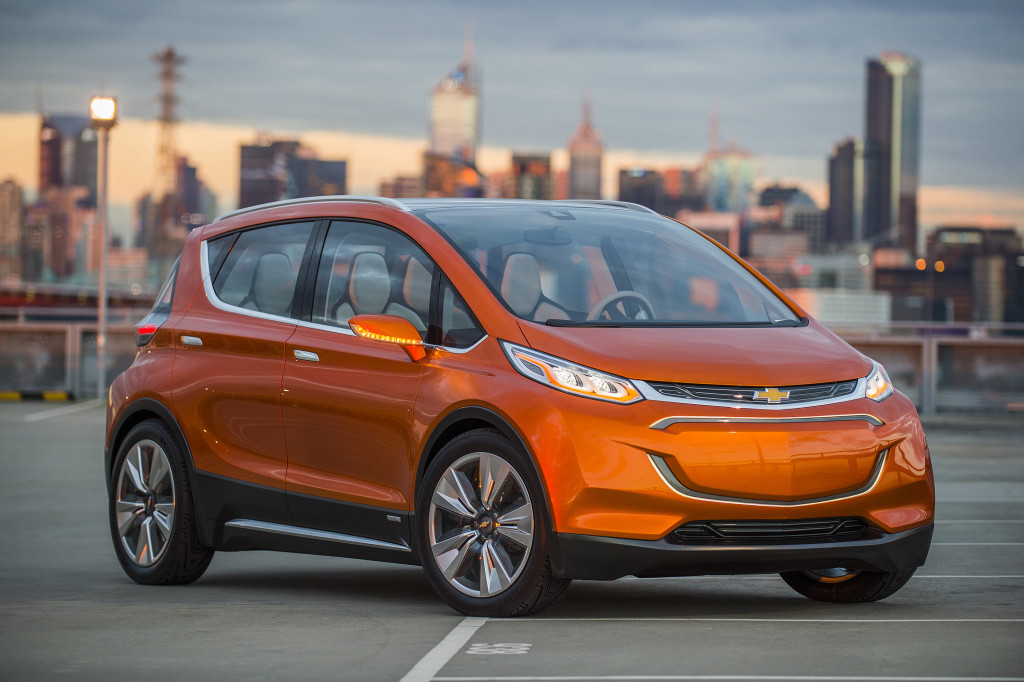 Within the Consumer Electronics Show, held in January 2016, Chevrolet Company has presented their new electric hatchback Chevrolet Bolt EV. A few days later at the North American International Auto Show the new five-door model was shown to the general public.
Externally Chevrolet Bolt looks attractive and quite futuristic, and still in its appearance there are no superfluous elements, which would cause a rejection. By its overall dimensions Chevrolet Bolt EV model is close to a European B-class: 4166 mm long, 1765 mm wide and 1595 mm high. The distance between the axles equals 2600 mm, while its ground clearance is only 115 mm. In the "curb" condition the minimum weigh of the novelty id 1624 kg.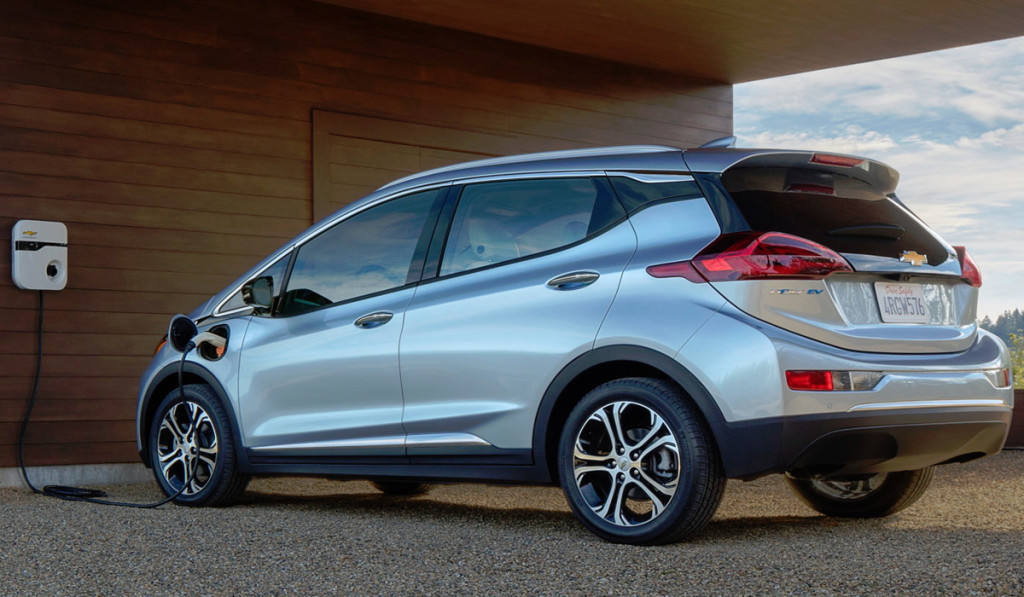 The interior of "Bolt" is executed in modern, but minimalist style, and the emphasis it is made on a 10.2-inch touch screen of informative and entertainment complex, located in the center console. Electric hatchback demonstrates high quality materials and a good level of internal performance.
Despite its compact size, Chevrolet Bolt EV offers an adequate supply of free space for the driver and his four passengers. The front seats are fitted with competent profile and a wide range of settings while in the rear there is a comfortable sofa.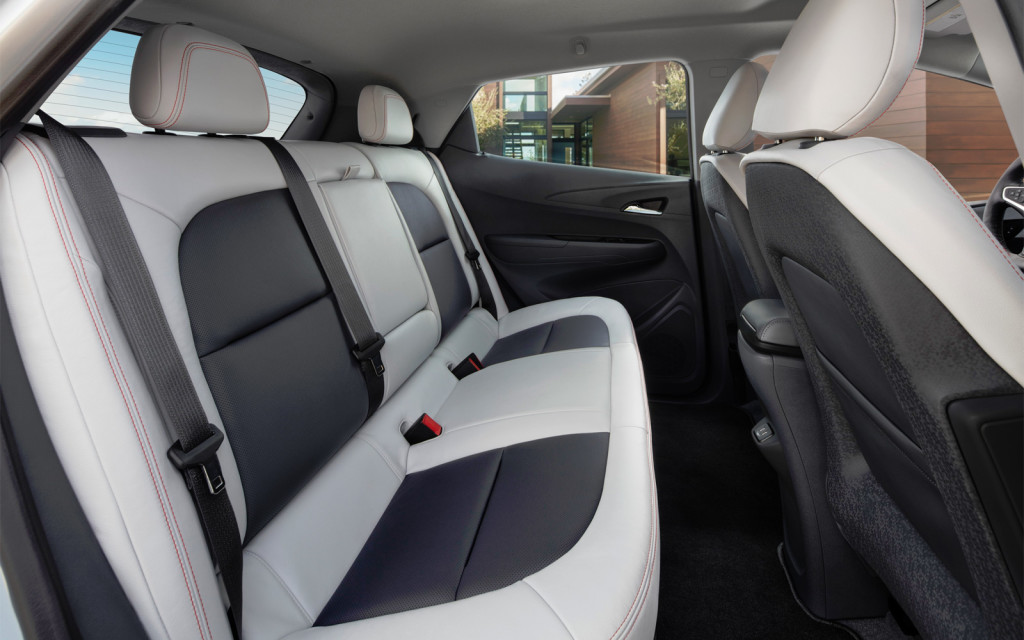 In the curb state the electric vehicle luggage compartment can hold up to 478 liters of cargo. The backrest of the second-row seats folds in two asymmetrical parts (though there will be no "flat floor"), increasing the capacity up to 1603 liters.
Chevrolet Bolt EV is driven by a three phase AC motor which generates a maximum of 204 horsepower and 360 Nm of torque. These characteristics allow the electric hatchback to speed up to 145 km / h, accelerating to first "hundred" in less than 7 seconds.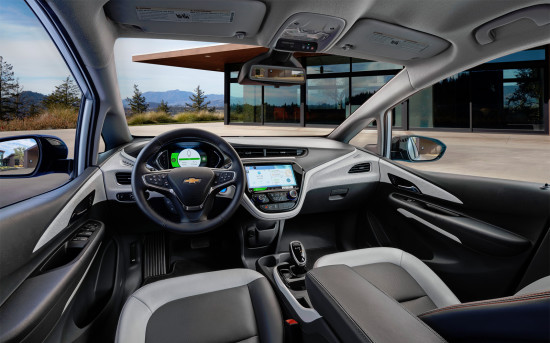 The US electric car is set with lithium-ion batteries with a capacity of 60 kW / h, which provide around 320 kilometers on a single charge. A complete recharging of the batteries from an ordinary home network with the use of a standard device on the 7.2 kW takes 9 hours, while with the help of additional DC station it is able to fill the "tanks" by a half in just 30 minutes.
In the basic configuration electric vehicle "flaunts" with six airbags, digital instrument cluster, a 10.2-inch multimedia system, air conditioning, electric drive, heated front seats, and a wide range of electronic assistants. In addition, there is a big list of optional equipment available for the novelty.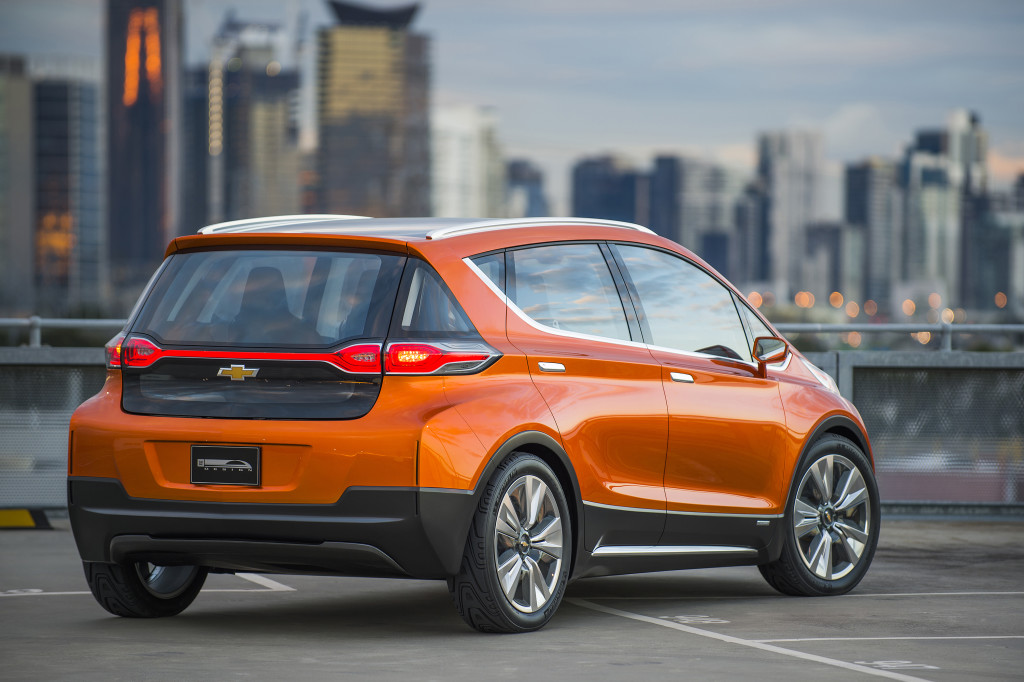 Serial production of Chevrolet Bolt EV will start in the end of 2016, then it will go on sale in the US at a price of 37,500 dollars.
There are photos of the
interior and exterior of the car Chevrolet Bolt EV (2016)
category CHEVROLET posted on the site. All photos of the car Chevrolet Bolt EV (2016) can be downloaded for free on the PC.