Restyled Infiniti QX60 (2016-2017) Photo & Video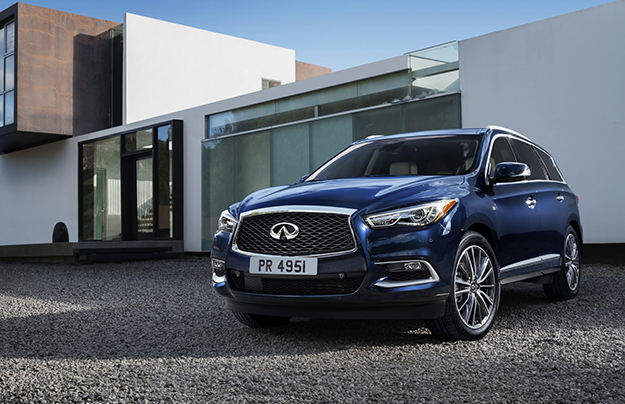 The Japanese Car brand Infiniti has finally introduced a restyled version of QX60 crossover. The novelty has received a number of technical innovations alongside with "traditional" range of power units with hybrid propulsion system. For the model formerly known as "JX35", this is the first restyling in history.
The upgraded SUV got a completely different design of the front part – new bumper, radiator grille and contemporary style head optics which is already familiar to us from the latest models of Infiniti brand. Rear bumper and the lights have also received an impressive upgrade.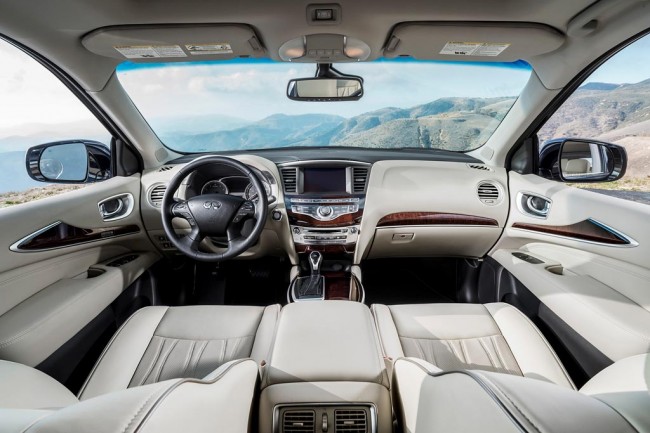 The interior has experienced only a small restyling, which especially affected its gearshift lever and decoration materials. On the other hand the manufacturer promises that the cabin has become quieter. This became possible thanks to installation of the three-layer side windows and the new engine subframes. As an extra – Infiniti QX60 got additional USB-ports and modernized three-zone climate control
In addition Infiniti engineers have retuned XQ60's suspension, replaced its springs and dampers in order to reduce the rolls in cornering and also improved the steering mechanism by achieving a more informative force on the handlebar. The driver can now choose between 4 modes of control electronics (Standard, Sport, Eco and Snow). And a circular view system got an option of detection of moving objects within the sight of its cameras.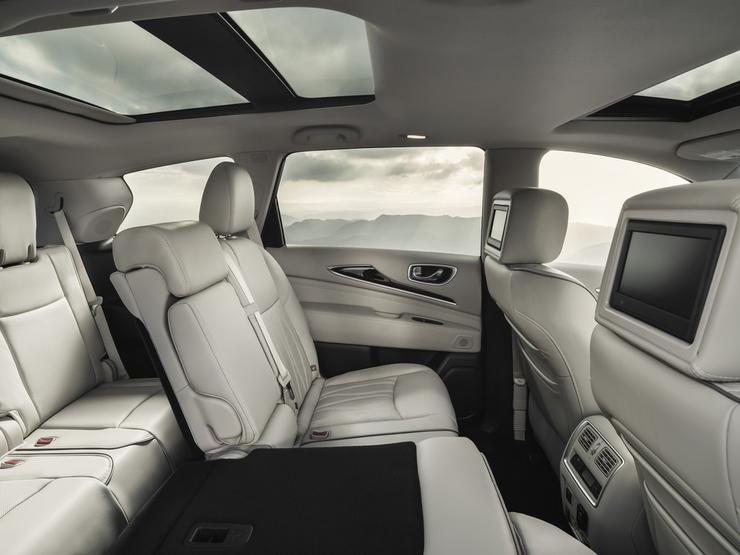 Driving characteristics and controllability of Infiniti QX60 has improved thanks to new springs and shock absorbers. What's even more important is that the manufacturer has raised safety level for the crossover by adding a range of smart equipment assistants, including – emergency braking system with pedestrian recognition. Finally, the model has received seven new packages of additional equipment and an expanded palette of exterior colors.
Just as usual the upgraded Infiniti QX60 will be available for order with two petrol engines to choose. The basic version is equipped with a 3.5-liter petrol "six" power of 262 horsepower. The engine of a crossover works with CVT variator accelerating from zero to 100 km / h in 8.4 seconds. Another option is a hybrid modification of the crossover with power unit, consisting of a 2.5-liter aspirated engine and electric motors. Total output reaches 250 horsepower and acceleration to "hundred" in 8.6 seconds.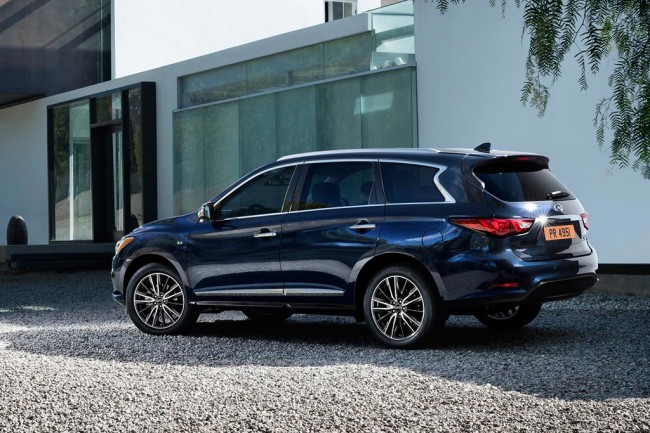 A full-fledged world premiere of the new Infiniti QX60 will take pace in January at the North American International Auto Show in Detroit.
There are photos of the
interior and exterior of the car Restyled Infiniti QX60 (2016-2017)
category INFINITI posted on the site. All photos of the car Restyled Infiniti QX60 (2016-2017) can be downloaded for free on the PC.