Ford Fiesta ST200 (2016) Photo & Video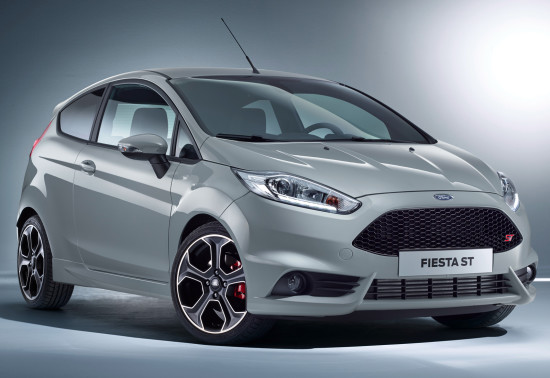 "Charged" small class hatch models are in steady demand among European consumers while automakers recognize them as "fashion models". Eventually Ford Motor Company in order to maintain its position in the market of the Old World has prepared a limited edition of "charged" 3-door Fiesta hatchback with "ST200" index, which has become much more powerful and sportier than the "standard congener".
The new Ford Fiesta ST200 is quite easy to recognize – To recognize Ford Fiesta ST200 externally is not difficult – It is distinguished by «Storm Grey» exclusive body color, sports body kit, unique wheels with dimension of 17 inches, enclosing red brake calipers and nameplates with the name of the limited version.
Ford Fiesta ST200 counts 3975 mm in length, 2489 mm of which "occupies" the space between the axles, its width is laid in 1709 mm and the height does not exceed 1456 mm. The ground clearance is about 125 mm in the "stowed" position.
Stylish and beautiful interior decoration of Ford Fiesta ST200 allocates such sporting touches as leather Recaro front seats with strongly developed side profile and contrast silver stitching, as well as the ubiquitous «ST» logos.
As for the rest the novelty inside follows the "civilian" model – quality finishing materials, adequate supply of free space and 276-liter luggage compartment (with the possibility of increasing it to 960 liters).
In a motor compartment the "charged" version of "Fiesta" hides EcoBoost gasoline vertical design "quartet" with the volume of 1.6-liter, 16-valve timing, direct fuel injection technology and a turbocharger giving out 200 horsepower at 5,700 revolutions / minute and 290 Nm of torque capacity at 1600-5000 revolutions / minute.
Ford Fiesta ST200 accelerated to the first "hundred" in 6.7 seconds and reaches a maximum of 230 km / h, while its average fuel consumption does not exceed 6.1 liters per 100 kilometers in the "city / highway" mode.
Ford Fiesta ST200 is based on the B2E platform with front MacPherson struts and rear semi-independent beam, electric power steering and braking "pancakes" on all wheels (front ventilated). Among the distinctive features of the "hot" models can be noted: modified chassis with more powerful brakes, "pointed" steering and a sports algorithm of stabilization system.
In the European market Ford Fiesta ST200 will become available in June 2016; however, its price has not yet been announced. By default the novelty got Recaro front seats, four airbags, 17-inch "rollers", complex multimedia audio system, air conditioning system, ABS with EBD, ESP and many other "goodies".
There are photos of the
interior and exterior of the car Ford Fiesta ST200 (2016)
category FORD posted on the site. All photos of the car Ford Fiesta ST200 (2016) can be downloaded for free on the PC.