Suzuki SX4 II (2017) Photo & Video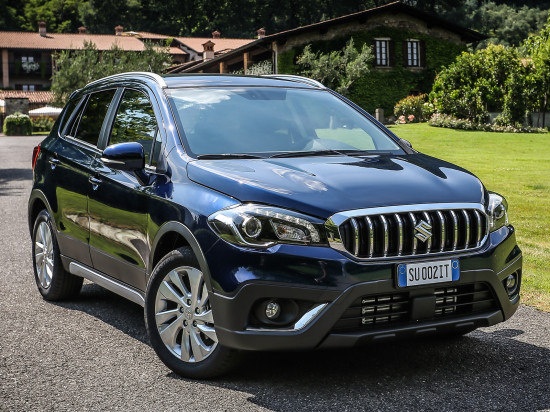 The Japanese company Suzuki has officially declassified a restyled version of its mini-crossover Suzuki SX4 (which in Europe is named S-Cross) in July 2016 on the stages of Paris Motor show. Modernization clearly went for the benefit of the car – it looks prettier, I have added new turbo engine and got more multimedia capabilities.
Externally, the restyled Suzuki SX4 became more attractive and impressive. The overall dimensions of the novelty are as follows: 4300 mm long, 1585 mm high and 1785 mm wide. The distance between the wheel pairs falls into 2600 mm, and its road clearance reaches 180 mm. In a stowed condition its weight ranges from 1085 to 1230 kg.
The interior of the crossover has undergone less significant changes, but still obtained a more "civilized" outfit due to the new multimedia complex with 7-inch touch screen and premium quality finishing materials.
In all other respects Suzuki SX4 II has retained all the advantages of its predecessor – informative and concise "tool kit", stylish three-spoke steering wheel and five-seated layout with comfortable seats.
By default, the crossover comes with front-wheel drive and at an extra charge it is available with Allgrip AWD with multi-plate clutch, starting the rear axle. Depending on the version, a restyled Suzuki SX4 accelerates to 100 km / h in 9.5-12.4 seconds, reaching the maximum of 170-200 km / h and "eating" not more than 5.2-5.7 liters of fuel to some mixed "hundreds".
Furthermore, for European customers the model will be offered a base-line three-cylinder turbocharged 1.0 liter engine, issuing 112 hp at 5500 revolutions / minute and 170 Nm at 2000-3500 revolutions / minute. As an alternative they will be able to choose a 1.6-liter supercharged diesel engine, providing 120 hp at 3750 rev / minute and 320 Nm at 1750 r / min respectively.
Standard version is endowed with seven airbags, audio system with four speakers, air conditioner, cruise control module, ABS, ESP, 16-inch steel wheels, heated front seats, assist system at emergency braking and other "chips".
The advanced version also comes with dual-zone "climate" alloy 16-inch "rollers", LED headlights, rain and light sensors, multimedia system, keyless entry and motor activation technology, navigation system, rear-view camera, front and rear Parktronic and so on.
There are photos of the
interior and exterior of the car Suzuki SX4 II (2017)
category SUZUKI posted on the site. All photos of the car Suzuki SX4 II (2017) can be downloaded for free on the PC.