Renault Megane IV (2016) Photo & Video
The French automaker Renault in July 2016 has officially declassified Megane of the fourth generation in the three-volume body, thus expanding again the range of its "golf family."
The novelty was designed to replace in the world markets Renault Fluence sedan which is being produced since 2009. The 4th generation Fluence became more mature and solid compared to the predecessor, got a modular CMF "trolley", dressed in a brand-to-date style and got modern functionality.
Outside the four-door version of Renault Megane is framed in a "family" style of the French brand: from the front the car looks exactly like the five-door model, and from the side and the behind it is strongly reminiscent of its flagship – Talisman model. In overall, the car has a bold and beautiful appearance, causing only positive emotions.
The length of the three-volume "Megan" equals 4630 mm, 2711 mm of which fits into the space between the wheel pairs, and its width and height does not exceed 1814 mm and 1447 mm respectively. The ground clearance is 145 mm.
The interior of the 4th generation Renault Megane sedan is identical to the hatchback model – modern design with 7- and 8.7-inch screen multimedia complex in the center of the exhibition, worthy of finishing materials, ergonomic seats and a sufficient reserve space for five passengers.
The cargo compartment of the car in the standard form can accommodate up to 508 liters of luggage, and in its "underground" there's a compact "reserve".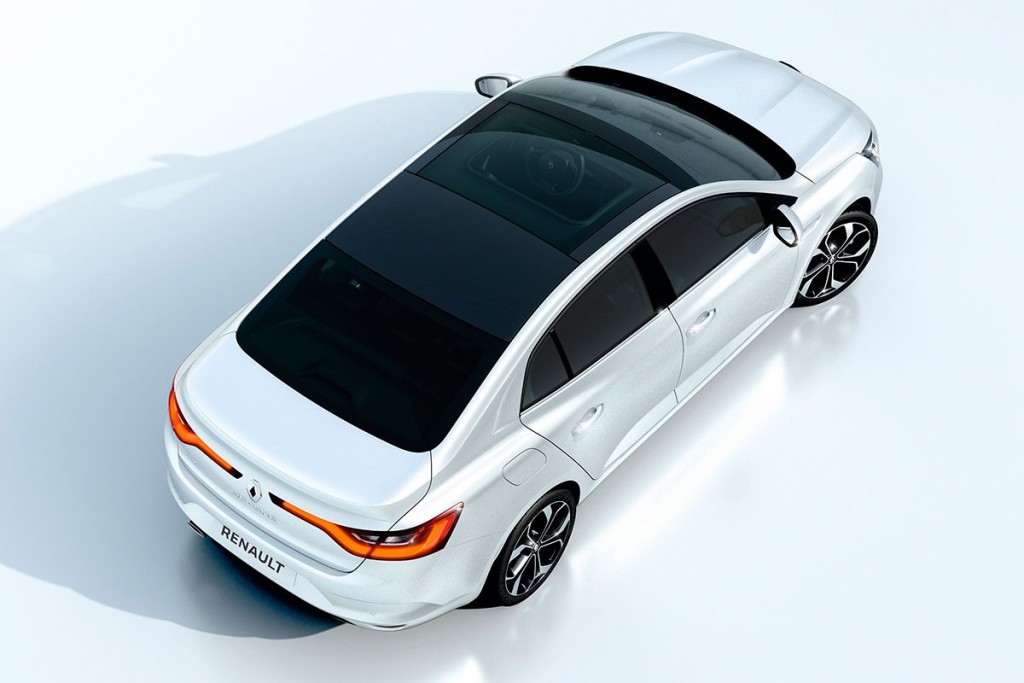 The novelty will be offered with a wide variety of power plants.
The gasoline part is formed by two inline "fours" with direct fuel injection – a 1.6-liter "aspirated" unit, issuing 115 "mares" and 156 Nm of torque, and the 1.2-liter turbo engine, which output is 130 horsepower and 205 Nm of thrust limit. The first is put with a 5-speed "mechanics" or Jatco CVT, and the second comes with a six-speed "mechanics" or a 7-band "robot".
The diesel fraction consists of three units: 1.5-liter, developing 90 or 110 "horses" (220 Nm or 260, respectively), and the 130-horsepower engine capacity of 1.6 liters, which has to its credit 320 Nm. Each of them is combined with a 6-speed "manual" gearbox, and for the "intermediate" version there is also a 6-band "robot".
The production of the novelty will be established at the Turkish plant in Bursa belonging to the French Carmaker, and first cars will be sold only in 24 countries. The timing of sales and prices of the car have not yet been disclosed.
Depending on the version, the new French sedan will be offered with LED optics "in a circle", modern multimedia complex with a 7 or 8.7 inch monitor, dual-zone "climate" adaptive "cruise", alloy wheels, impressive set of advanced security technologies and other useful equipment.
There are photos of the
interior and exterior of the car Renault Megane IV (2016)
category RENAULT posted on the site. All photos of the car Renault Megane IV (2016) can be downloaded for free on the PC.