Mercedes-Benz G-class 4×4² (2016-2017) Photo & Video
In March 2015 at the International Motor Show in Geneva the German company Mercedes-Benz has introduced its super-crossover G-Class 4 × 4², which was intended to replace the six-wheel model G 63 AMG 6 × 6. In Switzerland, the car was introduced only in a conceptual form, but it's serial version didn't take long and has entered into production later in June.
Externally Mercedes-Benz G-Class 4 × 4 ² truly impresses with its uncompromising nature and stands out with its distinctive features: extended wings, bumper from G63 AMG model, fantastic clearance, LED "chandelier" on the roof, twin exhaust pipes on the sides in AMG style, as well as 22-inch wheels.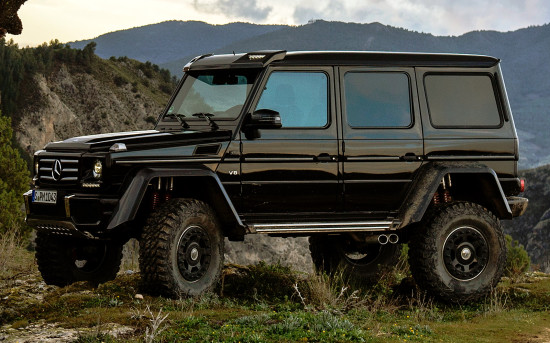 The length of the new SUV extends to 4500 mm, 2850 mm of which fall to the distance between the axles and a maximum width and height counts 2100 mm and 2235 mm respectively. Its ground clearance reaches 438 mm, and its "fighting" weight outweighs 3 tons.
Inside, Mercedes-Benz G-Class 4 × 4² virtually in everything echoes the standard model – corporate "family" design, expensive finishing materials and the highest level of execution. Inside the novelty can offer five seats for adult passengers and the volume of its cargo compartment ranges from 480 to 2250 liters, depending on the position of the rear sofa.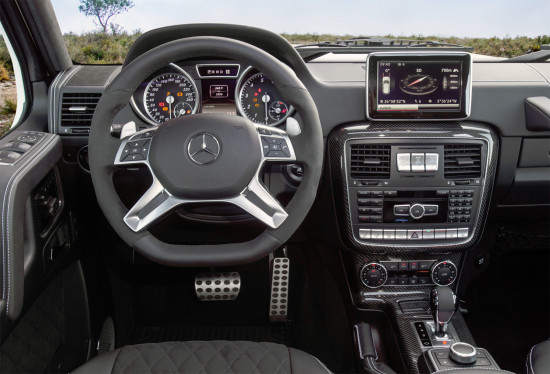 The new SUV is equipped with 422-hp (610 Nm) petrol engine V8 Twin Turbo with a displacement of 4.0-liters. The new engine with direct injection and piezo injectors is paired with the automatic transmission 7G-Tronic, which will provide a new heavy SUV dynamics of dispersal to first hundred for 7.4 seconds.
Depending on the commodity market the new SUV is offered with several petrol modifications, permanent four-wheel drive (with traction split between the axles in equal parts), three differentials with a lock, as well as distributing transmission and lowering transmission.
By default, the car is equipped with power steering and disc brakes "in a circle" (ventilated in front) with lots of modern "assistants". In a basic configuration the novelty is "packed" with six airbags, leather interior trimming, bi-xenon headlights, dual-zone "climate", ESP, ABS, 22-inch wheels, front seats with electric heating, heated mirrors, multimedia center, advanced "music" with nine speakers, electric windows, rain and light sensors and a bunch of other equipment.
There are photos of the
interior and exterior of the car Mercedes-Benz G-class 4×4² (2016-2017)
category MERCEDES-BENZ posted on the site. All photos of the car Mercedes-Benz G-class 4×4² (2016-2017) can be downloaded for free on the PC.