KIA Cadenza (2016-2017) Photo & Video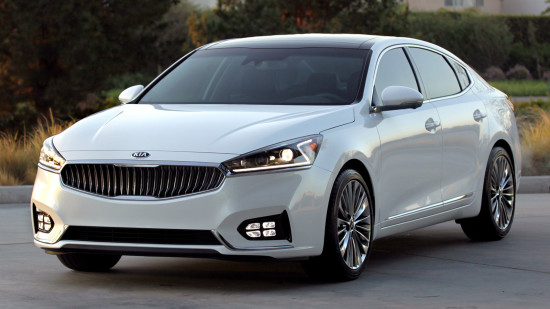 In March 2016 at the International Motor Show in New York, the South Korean brand Kia has introduced the 2nd generation Cadenza model, occupying an intermediate position between Optima and Quoris in the company's models range.
The exterior of the "second-generation" Kia Cadenza has turned out really beautiful and deliberately solid – the car looks no worse than the European and Japanese competitors of the model. 2nd generation Cadenza – is a full-length E-class sedan, which has the following external dimensions: 4971 mm long, 1471 mm high and 1869 mm wide. The wheelbase is located within 2855 mm.
Kia Cadenza Interior is decorated in the style of Kia Quoris and is tailored from high quality finishing materials. The front panel covers the entire width of the continuous canopy, and in its central "low tide" placed a large color screen multimedia center, stylish analog clock and ergonomic audio and "climate" blocks. Laconic instrument "shield" is beautiful and informative, and the three-spoke multifunction steering wheel is convenient and endowed with relief contours.
Inside the novelty meets the driver and passengers with spacious seats in both rows. Comfortable front seats are mounted with excellent profile and a large number of elektric settings, and in the rear – there's a cozy sofa with optimum stiffness stuffing and sophisticated layout.
Second generation Kia Cadenza has a very spacious "hold" – 453 liters in a standard form. The compartment itself has a convenient configuration and in its underground niche "hides" a spare tire with all the necessary tools.
In the North American market, this full-size sedan is equipped with atmospheric V6 petrol engine (3.3 liters) with aluminum crankcase, variable valve timing, direct fuel injection and a 24-valve timing, producing 290 hp at 6400 revolutions / minute and 344 Nm of torque at 5200 rev / minute. V6 engine unit is combined with a 8-speed "automatic" with "sport" and "manual" mode shifter and the front-wheel drive transmission.
In other countries, Kia Cadenza is additionally available with a gasoline GDI 2.4-liter "Quartet", issuing 190 horsepower, four-cylinder e-VGT turbodiesel with the volume of 2.2 liters and 202 Nm of torque as well as gas unit V6 3.0 LPI with capacity of 235 "horses". They are combined with 6- or 8-band automatic transmission.
In the "base" the sedan is equipped with a rack and pinion steering complex structure with progressive electric amplifier. The novelty is endowed with disc brakes (ventilated at the front axle), ABS, BAS, EBD and other assisting electronics. "Tuned" versions can boast with 19-inch "rollers", Head Up projection screen, Harman / Kardon premium audio system, 12-speakers, fully LED optics and other " powerups".
There are photos of the
interior and exterior of the car KIA Cadenza (2016-2017)
category KIA posted on the site. All photos of the car KIA Cadenza (2016-2017) can be downloaded for free on the PC.