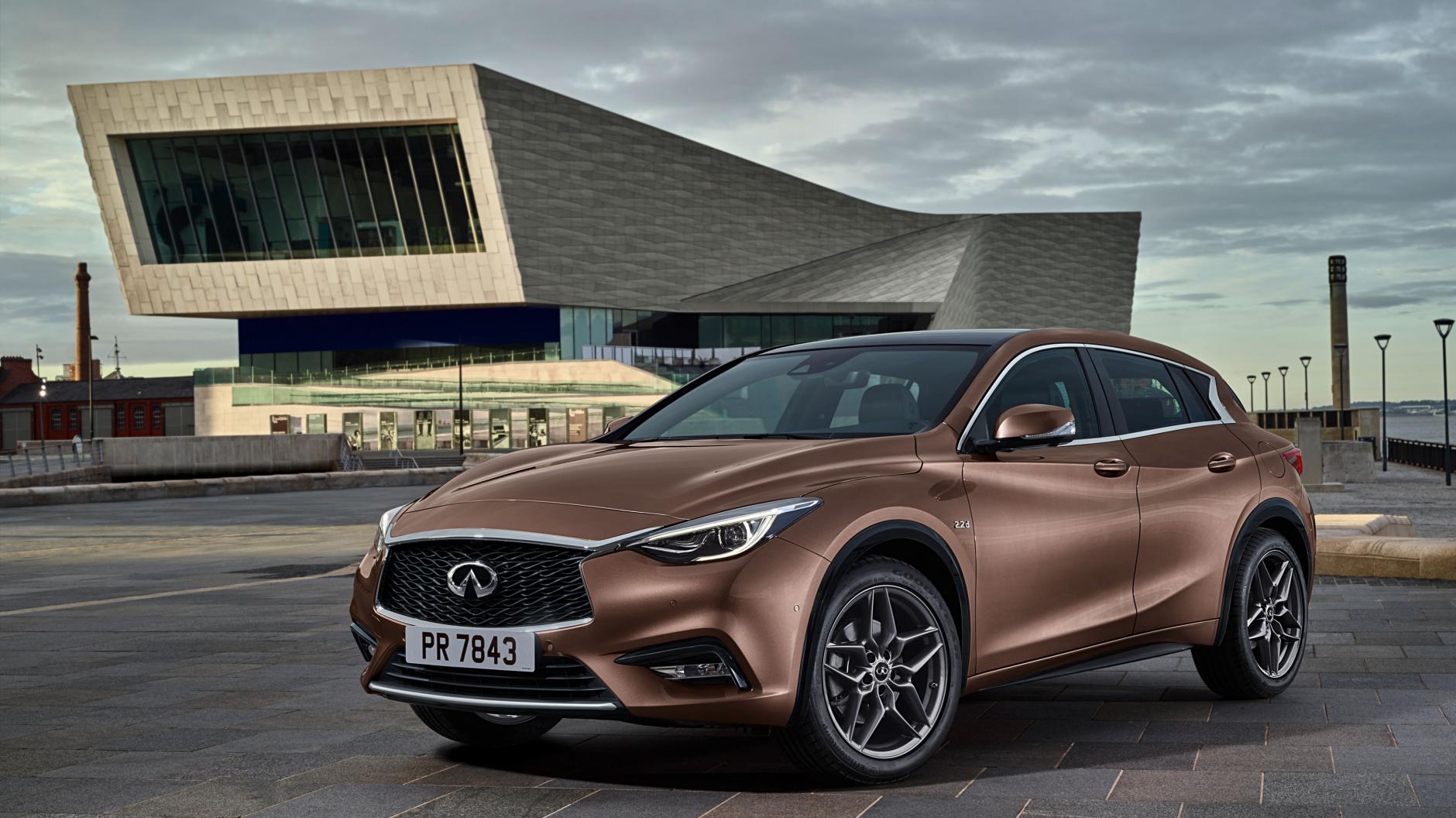 The Japanese manufacturer of premium cars has declassified the appearance of a new compact hatchback Infiniti Q30 that is built on the MFA platform known for Mercedes A-Class. Infiniti Q30 premiere took place in terms of the Frankfurt Motor Show 2015.
Cocky and graceful Infiniti Q30, with a sleek body lines relief – a compact crossover of premium class, whose main purpose is to easily move around the chaos of city life, embodying the idea of freedom motion and joy from every moment of life.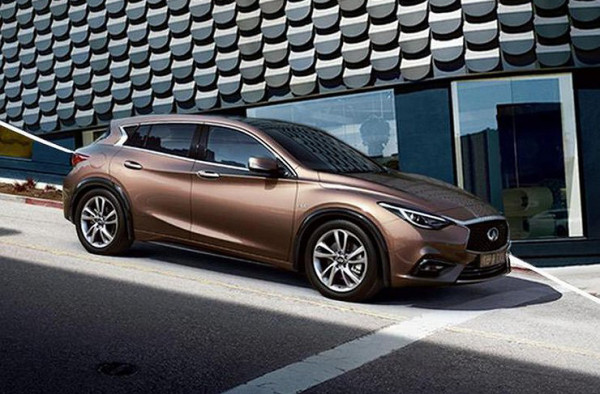 Infiniti Q30 has become the first front wheel drive compact hatchback in the history of the Japanese brand. It is also the first Infiniti model that will be released in Europe. In addition to the standard version, Q30 will be offered in Premium and Sport versions.
Serial Q30 with a few differences follows the design of the same name concept shown in Frankfurt two years ago. But now its rear door got handles and gracefully curved rear pillars turned deaf, with no windows. Despite the fact that Q30 according to turned out to be more compact overall dimensions the "classmates", it has one of the largest trunks in the segment – 368 liters (which is bigger than the trunks of Mercedes-Benz A-Class and the BMW 1-Series).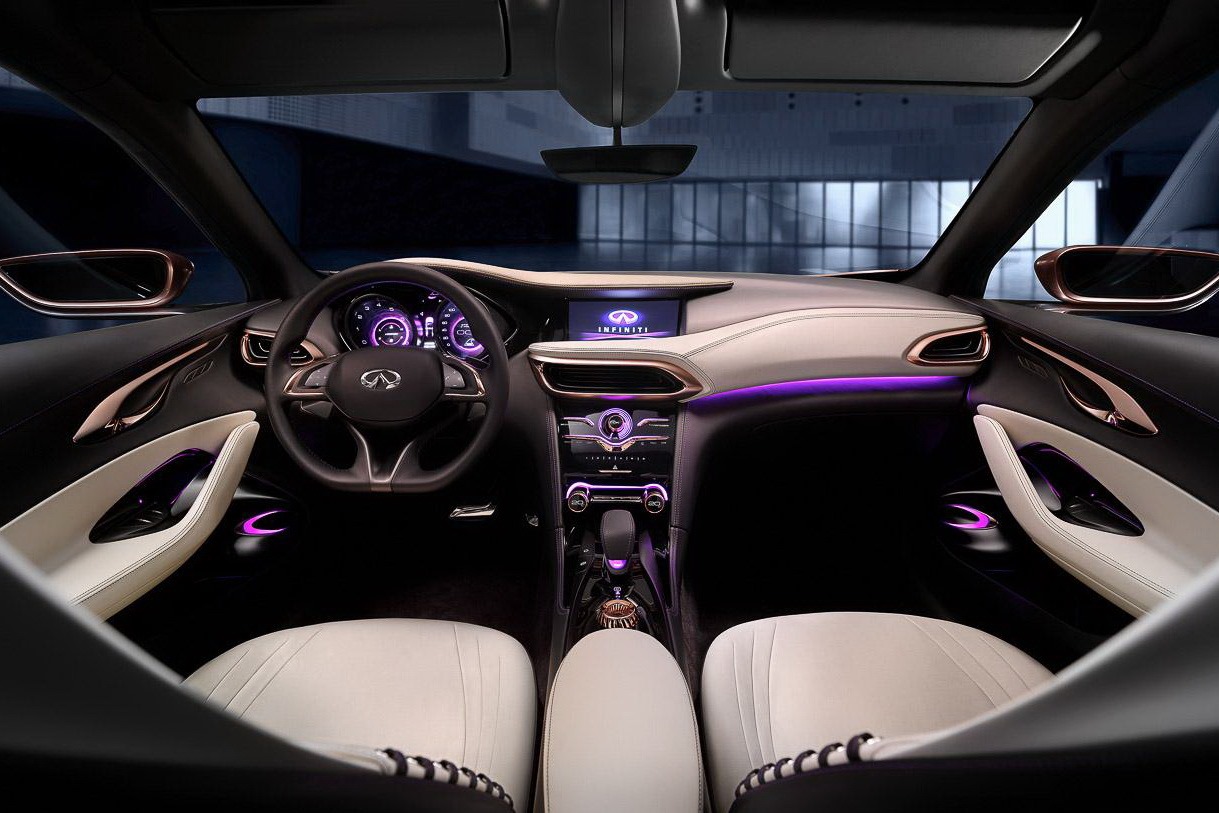 The interior of Infiniti Q30 is decorated Q30 with metallic matt finished panels instead of plastic. The headliner and body counters are executed in Italian material «Dinamica», resembling chamois leather. Among the interior design options customers may choose between: black with purple upholstery stitching, brown combined with black and white with red.
The set of engines includes 3 petrol options and 2 diesel engines. Petrol versions are available in 1,6liter engine capacity of 122 and 156 hp and two-liter 211-horsepower engine. The diesel modification is presented by 1.5- and 2.2-liter engines with the recoil of 109 and 170 hp, respectively. Infiniti Q30 can be equipped with either 6-speed manual transmission or 7-speed "robot" with two clutches.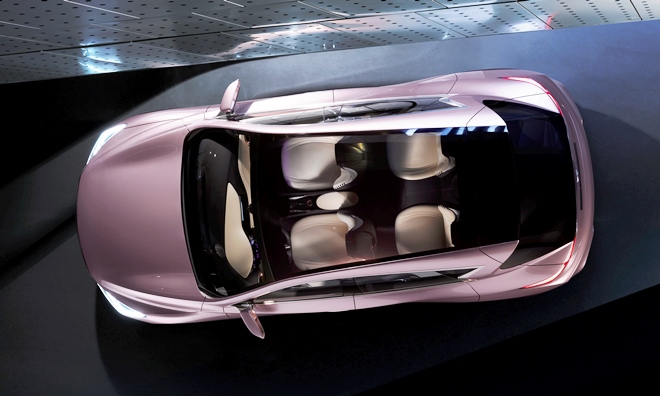 Infiniti Q30 can be ordered with a wide range of security systems, tracking the blind zones, front collision warning, automatically switching the main beam to the low beam. The novelty will also have an improved multimedia system "Infiniti InTouch" with a new interface.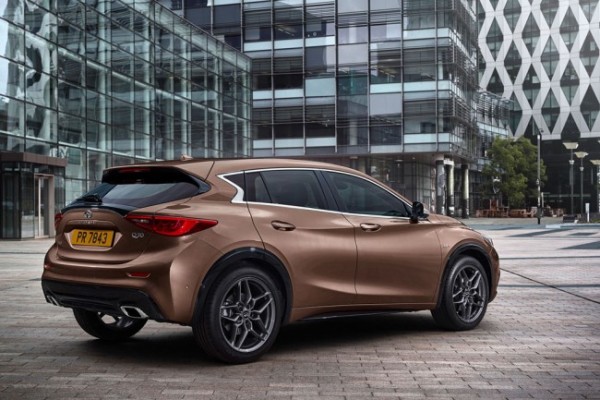 Q30 will become the first Infiniti car targeted mainly at young generation. Consequently it is widely expected that the cost of a novelty would not be overstated. So far there is no exact information, but rumor has it that the price will stay at $ 30 thousands.