Chevrolet Traverse (2017) Photo & Video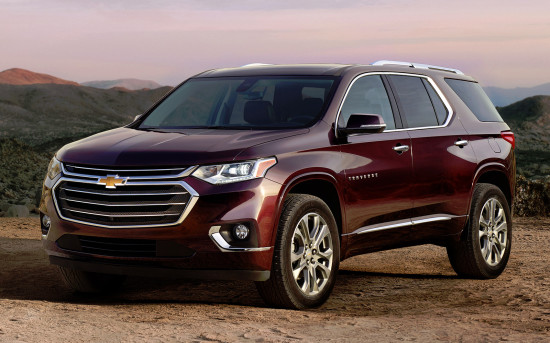 The 2nd generation Chevrolet Traverse has celebrated its world debut in January 2017 on the stages of international Auto show in Detroit. Compared to its predecessor the new SUV has become "lighter", though slightly enlarged in size, got a spectacular design, a set of modern "widgets" and upgraded engineering.
If the former model strongly resembled a raised minivan, the upgraded version looks like a full-fledged SUV, imitating the "bigger" Chevrolet models.
The "second» Chevrolet Traverse has 5189 mm in length, 1795 mm in height and 1996 mm in width. The wheelbase of the car extends to 3070 mm, and its curb weight in the basic version does not exceed 1978 kg.
The interior of the giant crossover is decorated in the spirit of modern models of Chevrolet – dominated by soft lines with a focus on a seven- or eight-inch display of «MyLink» multimedia complex, hidden behind a voluminous cache.
Saloon of the second generation Chevrolet Traverse can accommodate up to eight people – depending on the layout of the middle row: a three-seater sofa or two separate seats. Front row seats are fitted with a wide range of adjustments, and the "gallery" row is able to easily accommodate three adult passengers.
Even with a seven or eight-layout the new SUV still has an impressive luggage compartment with the volume of 651 liters. The maximum capacity of the "hold" is able to hold 2789 liters of luggage, and the stacked second and third rows of seats form a virtually flat cargo area.
The "second" Chevrolet Traverse will be available with 2 petrol units to choose from: the first one – a six-cylinder "aspirated" engine with the volume of 3.6 liters and a V-shaped configuration, 32-valve timing, direct "power" and varying valve timing which is able to generate 305 horsepower and 351 Nm of torque.
The alternative is a 2.0-liter "quad" with turbocharger, direct fuel injection, timing with 16 valves and variable valve timing technology, the potential of which reaches 258 "stallions" and 400 Nm of torque.
Both engines work in conjunction with a 9-speed hydromechanical "automatic" Hydra-Matic 9T50 and the front-wheel drive transmission, augmented system Traction Mode Select, responsible for switching the algorithm of functioning of the traction electronics.
In the US market the 2nd generation Chevrolet Traverse will appear in the fall of 2017. As for the equipment, the car will receive a scattering of airbags, three-zone "climate", MyLink multimedia system, advanced "music", two hatches in the roof, LED headlights, panoramic view camera, automatic braking at high and low speeds, control tiering movement, ABS, ESP and several other useful "widgets".
There are photos of the
interior and exterior of the car Chevrolet Traverse (2017)
category CHEVROLET posted on the site. All photos of the car Chevrolet Traverse (2017) can be downloaded for free on the PC.