Volkswagen Arteon is a full-size vehicle belonging to the Gran Turismo segment, the successor to the four-door coupe CC, which name is conjured of two parts: "Art" and "eon" (a prefix symbolizing "premium" in the brand hierarchy). The novelty combines avant-garde design with high functionality and modern technology.
The world premiere of the five-door coupe took place on March 6, 2017 in terms of Geneva Motor Show. Unlike its predecessor, the new car has become an "independent combat unit" and tried on a technical "stuffing" from VW Passat B8, though received a higher status than the "original model".
The exterior of the Volkswagen Arteon combines sturdiness and sporty character, and its body has a squat look and sporty forms. Volkswagen Arteon is a typical business class sedan with the matching external dimensions: 4862 mm long, 1871 mm wide and 1427 mm high. The distance between the wheels does not exceed 2841 mm.
The interior of Volkswagen Arteon is made in the same style with 8th generation VW Passat. Inside the new fastback looks stylish and smart, and its horizontal "strings", stretched to the full length of the torpedo add some elegance to the overall appearance.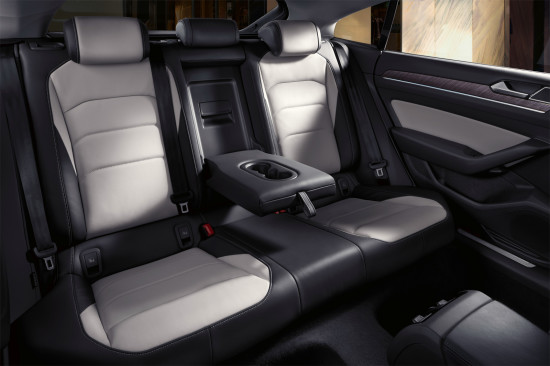 VW Arteon is a fill-fledged five-seater. Though despite an impressive reserve of free space on the second row and thoughtful proportions of the rear sofa, it would be most comfortable for only two adult passengers –because of the high tunnel placed in the middle. As for the front seats – they can "boast" with a competent profile, improved lateral support and a large number electric adjustments.
The trunk volume of fastback in the "camp" state reaches 563 liters. The back of the rear sofa folds in the proportion of "40:20:40", increasing the "hold" up to 1557 liters.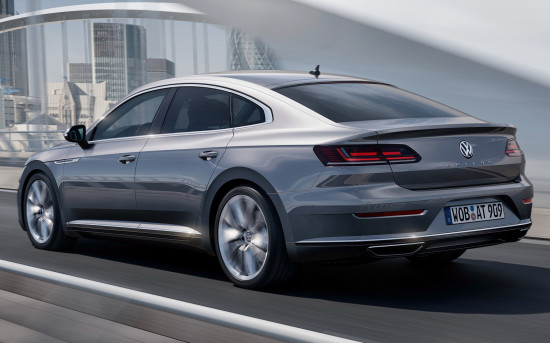 Volkswagen Arteon is offered with a wide range of four-cylinder power units – petrol and diesel. All versions are equipped with a 7-speed "robot" DSG with two clutches, and "junior" versions – also with a 6-speed "mechanics". By default, the 4Motion AWD system with Haldex multi-plate clutch in the rear wheel drive generates over 200 "horses". Other car versions have the front axle drive wheels.
In Germany, Volkswagen Arteon will go on sale in June 2017, although VW dealers have started to accept orders earlier – in March. In the "base" the novelty will receive: six airbags, LED lights, partial electric drive and heated front seats, multimedia center with 6.5-inch monitor, two-zone "climate", 17-inch wheels, "music" with 8 speakers, ABS, EBD, ESP and much more. Moreover, the five-door fastback will have a wide range of additional options…