Toyota RAV4 (2016) Photo & Video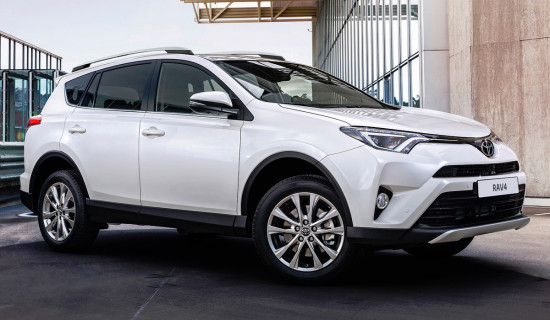 The New York Auto Show in April 2015 became a place for the official premiere of the updated Toyota RAV4, and in front of European public the novelty appeared a little bit later – at Frankfurt auto show in September. The crossover now looks prettier, has received previously inaccessible equipment, higher quality interior materials and a modern complex security.

Toyota RAV4 of the 2016 model year falls within the parameters of a midsize class: length – 4605 mm, height – 1670 mm, width – 1845 mm, maximum distance between the axles – 2660 mm. In a curbed state the crossover weighs between 1575 and 1715 kg depending on the modification and its ground clearance is less than 197 mm.
The interior of 4th generation Toyota RAV4 looks modern and attractive, and certain premium features from Lexus can be traced in its design. Its salon is able to accommodate a driver and four adult passengers. Front comfortable armchairs are equipped with good support at each side and perfect length pillows. Back row passengers will seat on a sofa with adjustable tilt back and plenty of space in all directions.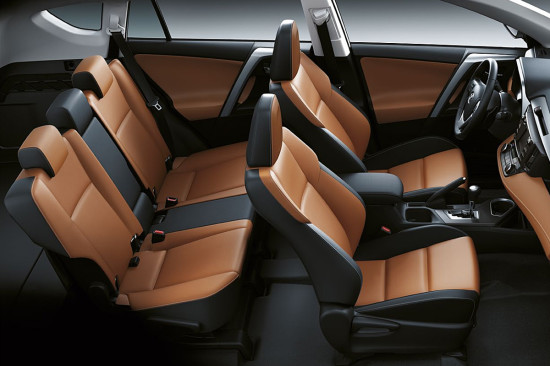 The luggage space of the Japanese crossover is 506 liters. Backrest "gallery" might be laid flush with the floor in two asymmetric parts (60 to 40) with the capacity increasing to 1705 liters. In addition, all versions of the car are equipped with a net "hammock" for transportation of valuable cargo.
will be available with three engine options, three gearboxes and two types of the drive.
The crossover will be available with petrol engines of 2.0 and 2.5 liters (146 and 180 hp) and a 2.2-liter diesel engine with 150 hp. As for transmission – the driver will be able to choose a 6-step "mechanics", a variator or a 6-band "machine". As before "RAV4" can be ordered with a front- or all-wheel drive.
On the US market the novelty will be additionally available in a hybrid version, which is driven by the installation consisting of a 2.5-liter gasoline engine, eCVT variator, AWD-i drive and electric motor installed on the rear axle.

The updated Toyota RAV4 will be available in six configuration options – "Classic", "Standard", "Comfort", "Elegance", "Prestige" and "Prestige Safety». The most accessible version of the car "flaunts" with six airbags, air conditioning, lights and LED daytime running lights, power windows on all doors, heated front seats and systems of ABS, EBD, BAS, HAV, etc.
The "top" package includes LED headlights, panoramic view of four cameras, electric drive for the driver's seat, multimedia center with color display, navigation system, dual-zone "climate", security package Toyota Safety Sense, as well as other modern facilities.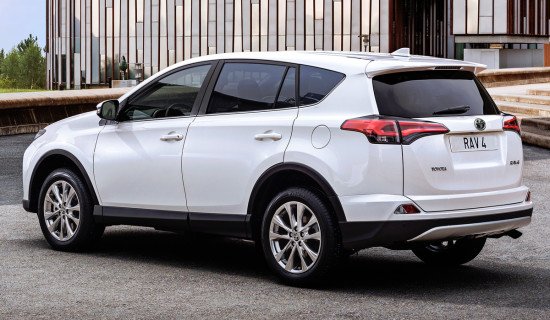 There are photos of the
interior and exterior of the car Toyota RAV4 (2016)
category TOYOTA posted on the site. All photos of the car Toyota RAV4 (2016) can be downloaded for free on the PC.