Acura NSX (2016) Photo & Video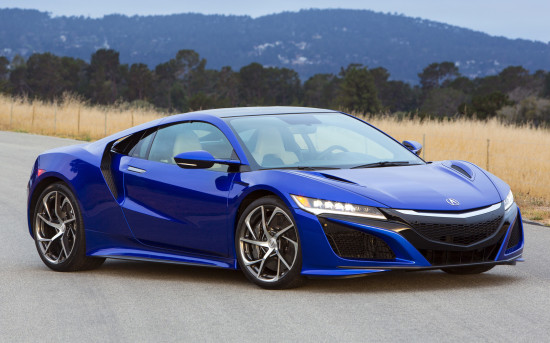 The new serial NSX sport car of the Japanese premium brand Acura has become one of the most anticipated premiers of the exhibition in Detroit, since its long-awaited appearance was accompanied by several years of development.
Acura NSX looks amazing – beautiful and powerful body with rapid, verified aerodynamic contours, bold lighting engineering with LED filling, "muscular" thighs and four "trunks" of exhaust system. Spectacular different-sized wheels of original design, clad in 245/35 R19 (front) and 295/30 R20 (rear) tires complete picture.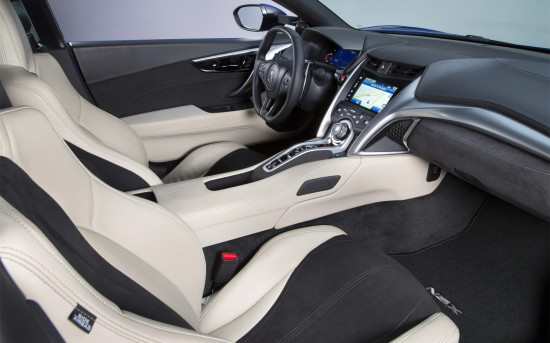 Acura NSX Overall length is 4470 mm, its width does not exceed 1 940 mm and the height fits in 1215 mm. Between the front and rear axles the supercar has 2630-millimeter distance, and its ground clearance in the "battle" state reaches 110 mm.
Double-seated interior of Acura NSX strikes with expensive performance – genuine leather used not just for the trimming of armchairs, but also for the front panel and doors as well as Alcantara and metal inserts.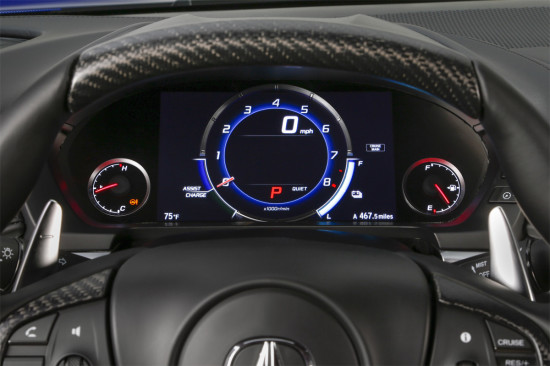 Bright central console, comprising a color screen and multimedia "climate" unit, smoothly flows into the high floor tunnel, dividing the interior into two cockpits with smart bucket-like seats. In the direct supervision of "pilot" there is a relief multifunctional steering wheel, flattened in the top and bottom, and a modern digital "toolbox" with a color TFT-LCD.
Behind the seats f Acura NSX a 3.5-liter V6 engine is mounted longitudinally with the technology of combined power supply, Twin Turbo and a camber angle of 75 degrees, which gives out 507 horsepower and 550 Nm of torque accessible between 2,000 and 6,000 rev / min.
A pair of electric motors drives the front axle, generating 36.5 "horses" and 73 Nm of the rotator thrust. Overall potential of the hybrid power plant achieves 573 horsepower and 644 Nm of peak torque. These characteristics allow the sports car "to shoot" to the first "hundred" in 3.8 seconds and accelerate until it reaches 306 km / h.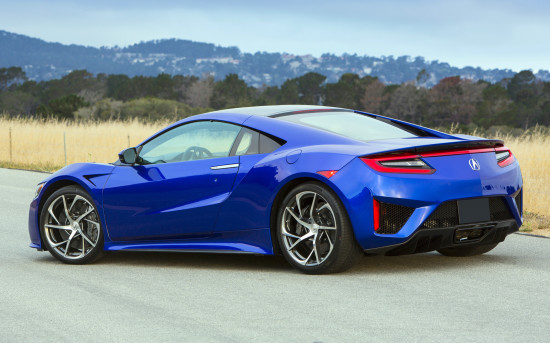 Control electronics of the hybrid sports car includes four modes of functioning – Quiet, Sport, Sport + and Track. In the first mode NSX moves with "pure" electric drive, other modes imply automatic change of all the major components and assemblies settings.
Orders for the new Acura NSX should start at the beginning of 2016 and United States is the primary market for the first sales. It is expected that the cost of a two-door sports car will be around 150 thousand US dollars, and its basic equipment will incorporate: six airbags, dual-zone climate control, leather interior, entirely LED optics, multifunctional steering wheel, multimedia center with color screen and a lot of advanced features.
There are photos of the
interior and exterior of the car Acura NSX (2016)
category ACURA posted on the site. All photos of the car Acura NSX (2016) can be downloaded for free on the PC.