4th generation Mercedes-Benz C-Class Photo & Video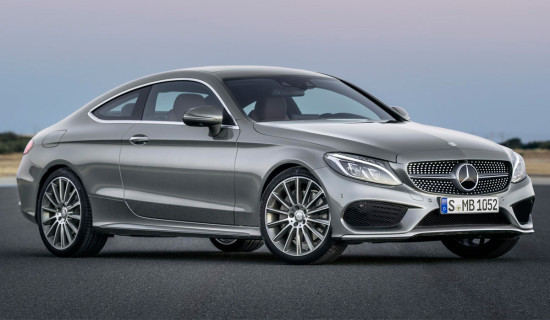 German automaker Mercedes-Benz has officially declassified Coupe C-Class in the next generation body «W205» in the middle of August 2015. Its physical premiere will take place in September on the stage of Frankfurt Motor Show, and by the end of the year it will start development in the markets of European countries.
The exterior of Mercedes-Benz C Coupe is characterized by dynamic and sporty design with a long hood and powerful waist line, and its swiftness is evident even in statics. Its front part the car has inherited from its predecessor while the rear part is very much like the outline of Mercedes-Benz S-Class model.
Mercedes-Benz C Coupe has the following dimensions: 4685 mm long, 1810 mm wide and 1,420 mm in height. The total distance between the axles is 2840 mm, and a minimum ground clearance is 130 mm.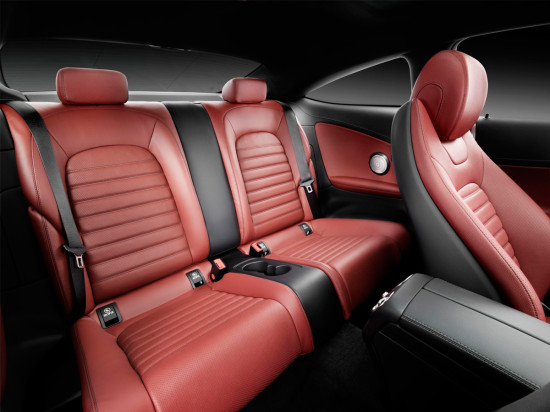 The interior of the new "W205" body has remained with no serious changes: a multi-sport steering wheel with three-spoke design, "wells" of the dashboard and a stylish control panel with a large TV-screen; three "jets" of ventilation and a minimum number of "governing bodies". The front seats are fitted with enhanced support on each side and integrated headrests, and the rear seats – with a comfortable sofa molded for two passengers.
As for the engines range –Mercedes C-Class coupe got 3 four-cylinder direct-injection units, corresponding to the ecological requirements of "Euro-6." A Petrol "set" is presented with four turbo engines with volume of 1.6-2.0 liters, reaching from 156 to 245 horsepower and from 250 to 370 Nm of torque. A 2.1-liter turbo-diesel variant is able to force 170 "horses" and 400 Nm or 204 powers and 500 Nm. All motor types rely on a 7-band "robot" with a pair of clutch and a rear-wheel drive; the most powerful of the even has a 4MATIC wheel drive transmission.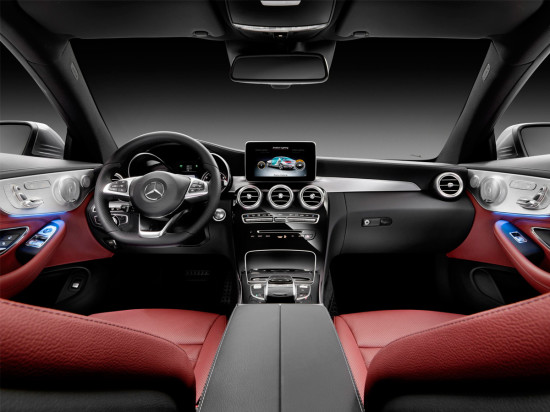 In technical terms, the two-door Mercedes C-Class coupe is identical to its predecessor: a modular MRA posterior-drive with a 2-link front and a multi-lever rear suspension, adaptive electric power steering and disc brakes on all wheels (ventilated in front) with lots of electronic aides. As an option the AirMatic air suspension is available for C-class Coupe.
European sales of Mercedes-Benz C-Class W205 Coupe will start in December 2015. Official prices for the car have not yet been announced, but it is expected that they will start with a mark of 45 thousand euros.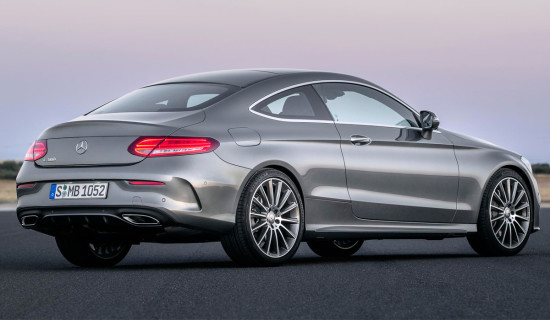 Mercedes-Benz C Coupe will be lavishly equipped – the default setting will obtain LED lighting fixtures, a two-zone "climate", a multimedia complex with a 7-inch screen, a sound system, an automatic parking technology, lots of airbags and other equipment. Among the additional features: pneumatic suspension, circular video review technology, adaptive cruise control, automatic feed belt, etc.
There are photos of the
interior and exterior of the car 4th generation Mercedes-Benz C-Class
category MERCEDES posted on the site. All photos of the car 4th generation Mercedes-Benz C-Class can be downloaded for free on the PC.