Porsche 718 Boxster (2016-2017) Photo & Video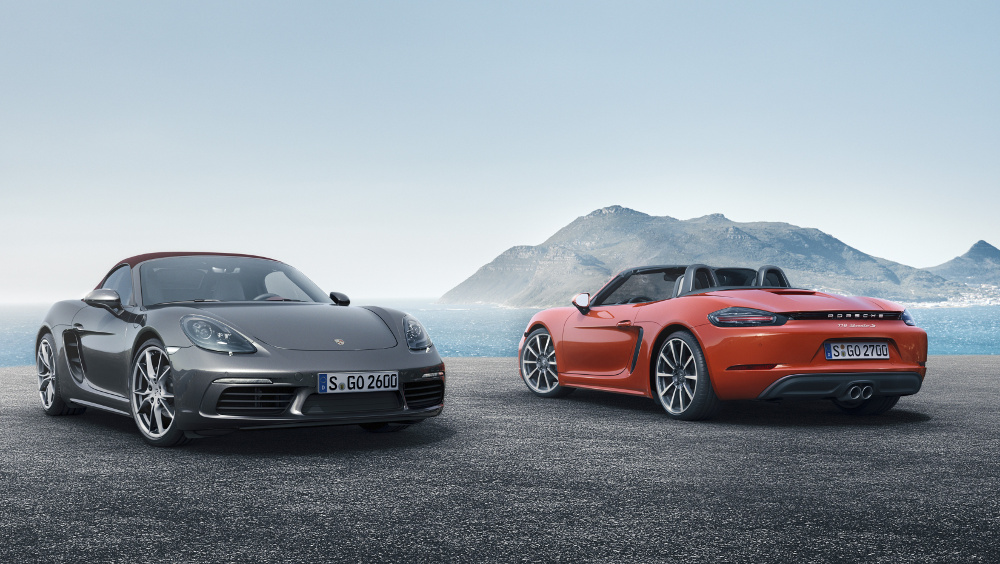 At the end of January 2016 the German premium brand Porsche has officially presented to public the fourth generation of its compact roadster, which has not just experienced a revolutionary change, but also got a new name – 718 Boxster. The novelty became much prettier externally and internally, got a new "turbo-4" engine unit and received a seriously modified technique filling. The general public will see Porsche 718 Boxster in March at Geneva Motor Show.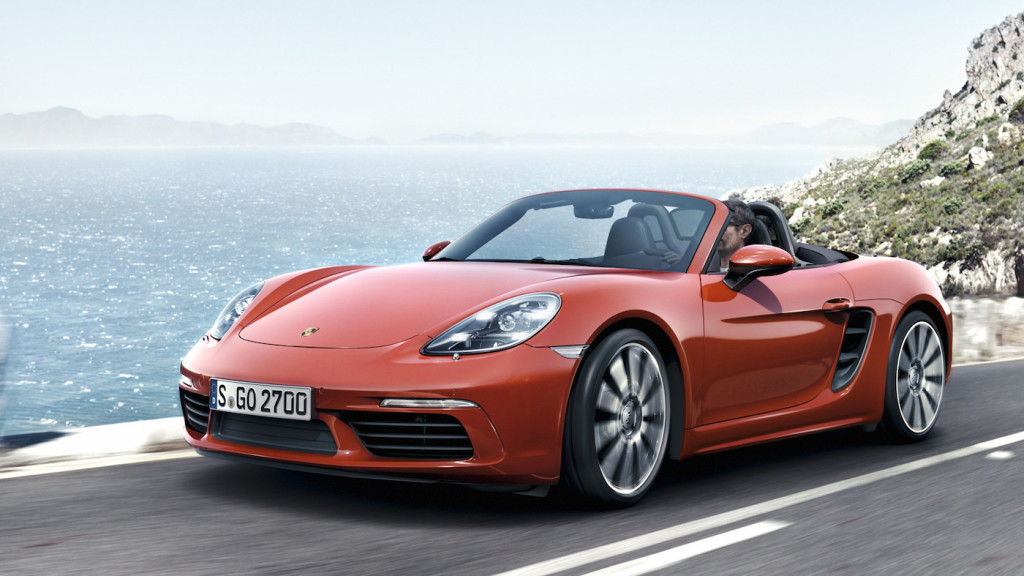 The silhouette of Porsche 718 Boxster is swift and sporty-smart, it doesn't lose its elegance even with a raised folding fabric roof, the transformation of which takes only 9 seconds.
Overall length of Porsche 718 Boxster is 4379 mm, 2475 mm of which covers the distance between the axles, the height fits in 1281 mm and its width is 1801 mm. In the curb state the car weighs from 1335 to 1365 kg. The roadster relies on 18-inch wheels with tires of different size –  235/45 / R18 in front and 265/45 / R18 in the rear.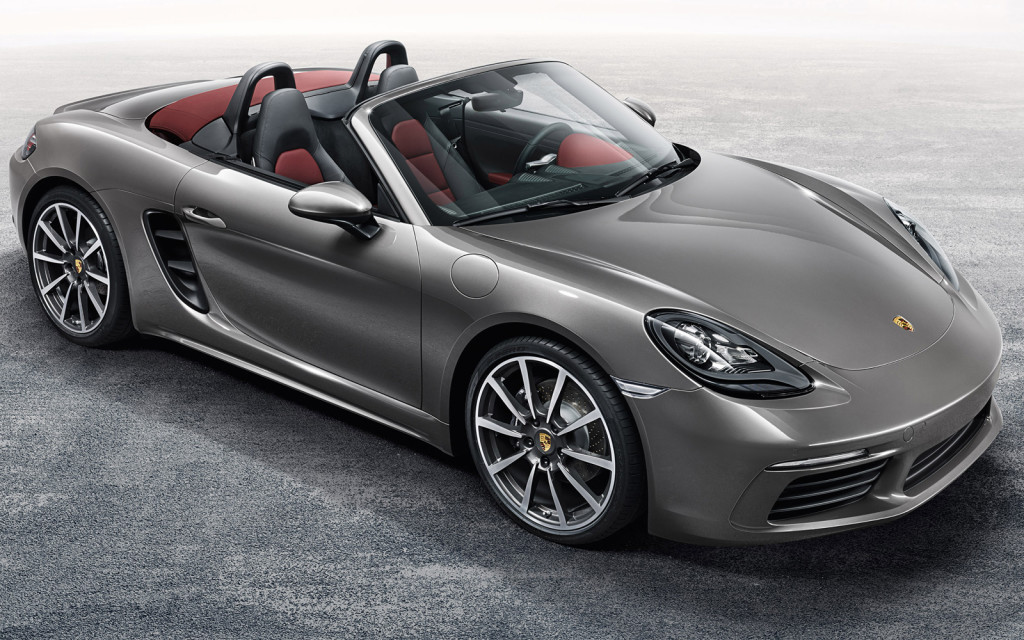 The interior of German roadster exhales fighting spirit and quality, and its main motive is a high central tunnel dividing the saloon on the driver and passenger zones. And in the other parameters the interior of Boxster is just perfect – ideally fitting parts, ergonomic design and expensive finishing materials.
Perfect armchairs of Porsche 718 Boxster please with excellently developed lateral support and lots of adjustments and for a charge – even with heating and ventilation. In addition to a pair of crew members, the roadster is able to place aboard quite an impressive luggage amount in its two cargo compartments with the total volume of 275 liters (150 – in front 125 – in the rear).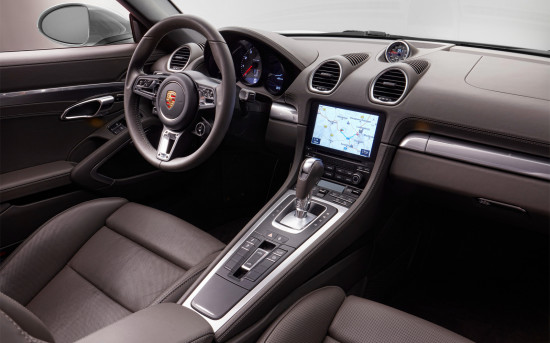 Porsche 718 Boxster runs on a gasoline in-line "four" with opposite design, turbocharger, direct fuel injection technology and integrated dry-sump lubrication, the working volume of which is 2.0 liters (1988 cc). The engine unit develops 300 horsepower at 6500 rev / min and 380 Nm of torque.
The engine is coupled with a standard 6-speed "mechanics", or the optional 7-speed PDK "robot" with manual and automatic gear mode changer. Mechanical roadster "shoots" from zero to 100 km / h in just 5.1 seconds, and the "automatic" version is even 0.2 seconds faster. Maximum speed of "new 718-th" is limited at around of 275 km / h, and fuel consumption for each "hundred" varies from 6.9 to 7.4 liters.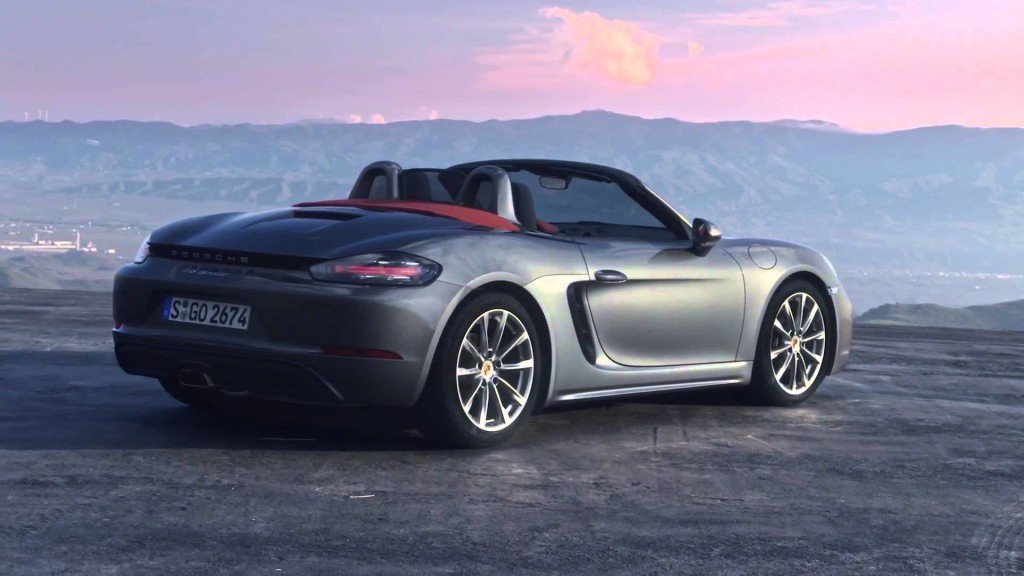 The standard equipment of roadster includes two-section airbags for the driver and the passenger system for protection against lateral impacts, 18 inch wheels, multimedia center, "climate", audio system with six speakers, side mirrors with electric and heating function, bi-xenon headlights, sport seats and a bunch of modern security systems.
In addition, the car is available with a wide range of optional "widgets", including LED optics, adaptive suspension, electrically adjustable, heated and ventilated seats, navigation, etc.
There are photos of the
interior and exterior of the car Porsche 718 Boxster (2016-2017)
category PORSCHE posted on the site. All photos of the car Porsche 718 Boxster (2016-2017) can be downloaded for free on the PC.