Opel Astra K Photo & Video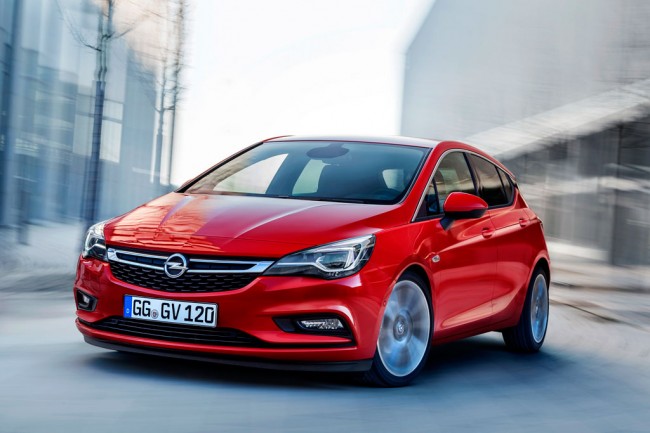 The fifth generation of Opel Astra should debut in the autumn of 2015 in Frankfurt, but German automaker has already declassified the novelty in early June with the help of the Internet. The "K" version retains proportions of its predecessor, but at the same time has become brighter, lighter and far more technologically advanced in all aspects.
It is worth noting stylish lighting equipment (optional – "IntelliLUX" LED matrix lamps) and sculptural bumper with expressed aerodynamic shape, rear – LED lights and compact trunk lid. The dynamic look of Opel Astra "K" is presented by expressive fins on the sides actively falling roof and blackened rear pillars that create the effect of a "floating roof".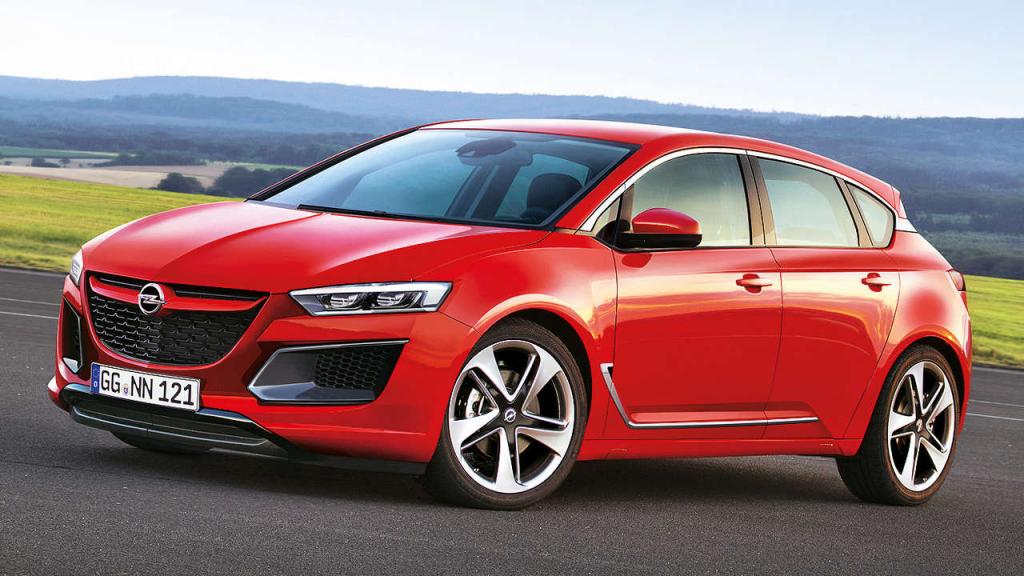 In its overall dimensions "the 5th Astra» still appears to be in the European C-class, but compared to its predecessor, it is now a bit more compact: 4370 mm in length, 1809 mm in width and 1485 mm in height (the car became 50 mm shorter and 26 mm lower) with a wheelbase of 2662 mm.
The interior decoration of Astra K took no less grandiose transformation, rather than its exterior – literally everything is absolutely different inside the hatchback, starting with the design and ending with finishing materials. Right in front of the driver's eyes – there is a dense steering wheel with three-spoke design and a scattering of control elements, as well as the analog dashboard with a large multifunctional display. Central place in the modern front panel is given to a 8-inch touchscreen "IntelliLink" multimedia complex. Climate control in the cabin is managed by a separate unit with a pair of large "arms" and keys.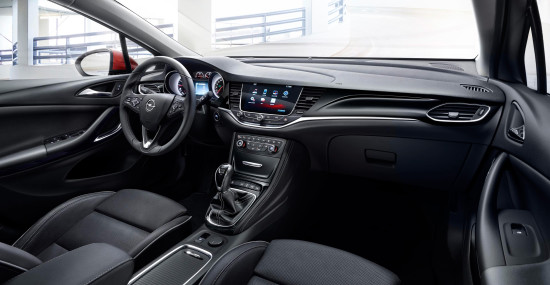 The German automaker confirms that Opel Astra K has received high quality materials, appropriate to a more "status" models. Depending on the configuration, front row seats may have up to 18 regulations, ventilation, heating and massage. Rear passengers are promised the increased space area and optional heating function of the outer seats. Luggage compartment of a hatchback in a marching condition is designed to carry up to 370 liters of luggage.
The 5th generation Astra has received an extensive range of power units of the "Ecotec" family.  The basic three-cylinder gasoline version is considered to be 1.0-liter turbocharged with direct fuel injection, issuing 105 horsepower at 5500 rpm / min and 170 Nm of thrust in the range of 1800 to 4250 rev / min. Combined with a 5-speed "mechanics" or 5-band "robot", it provides an acceleration from a standstill to 100 km / h in 11.2-12.7 seconds, top speed of 200 km / h and average fuel consumption at the level of 4.3-4.4 liter in a mixed mode.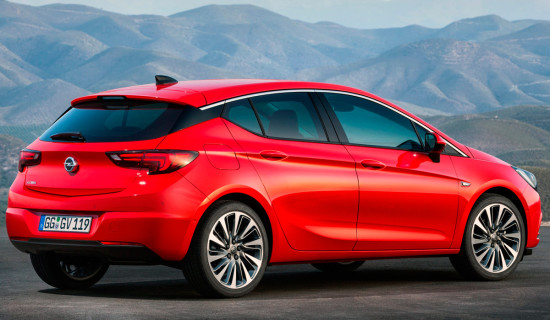 The arsenal of "top" versions will additionally offer front and back camera, powered front seats, LED headlights, parking sensors, dual-zone climate control, alloy wheels with dimension of 17 inches and lots of other bonuses.
European consumers will have an opportunity to buy 5-th generation Opel Astra in September 2015.
There are photos of the
interior and exterior of the car Opel Astra K
category OPEL posted on the site. All photos of the car Opel Astra K can be downloaded for free on the PC.