Mercedes GLE 63 Coupe Photo & Video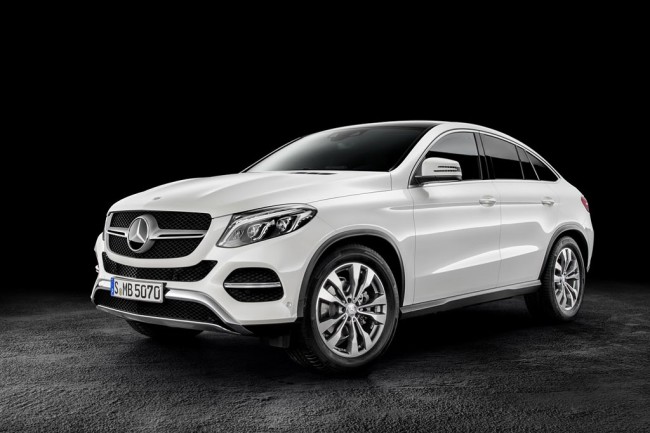 Year 2015 started for Mercedes-AMG with a new coupe model – GLE 63. This powerful SUV meets the highest standards in terms of dynamics, design and comfort.
Mercedes GLE 63 Coupe combines the sportiness of a coupe with the strengths of a SUV. High agility, spectacular acoustics of the engine plus the acceleration of a sports car come along with superiority, huge torque reserve and perfect traction.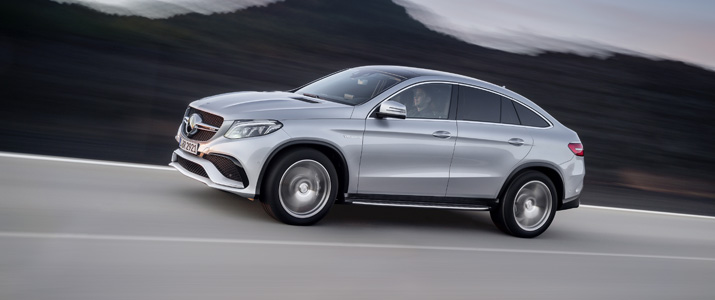 A wide range of driving modes for DYNAMIC SELECT system is able to provide the driver with absolutely different sensations. By switching the modes "Slippy", "Individual", "Comfort", "Sport" and "Sport Plus" the driver can radically change the dynamics characteristics in one "click".
This perfect provides the driver with a confident sense of superiority behind the wheel regardless of the traffic conditions and the state of the roadway. A "Sport plus" mode is aimed to achieve the highest possible transverse dynamics, while a "Comfort" mode allows you to drive with the maximum comfort possible. By selecting "Personal" mode you can specify your own settings for engine performance, change a gear strategy and suspension tuning.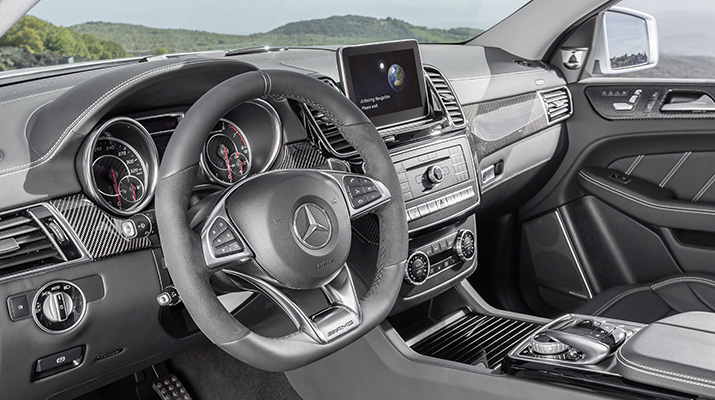 Mercedes GLE 63 Coupe combines the advantages of a manual gear shift with the convenience of an auto switching to the upper and lower transmission. By clicking the "M"button a driver can start shifting gears by means of the steering column switch and thus entirely concentrate on the impressive dynamics performance.
The shortest braking distance and a high stability of the braking system – these are the strengths of the AMG braking system of increased power with ventilated and perforated brake discs on both axles.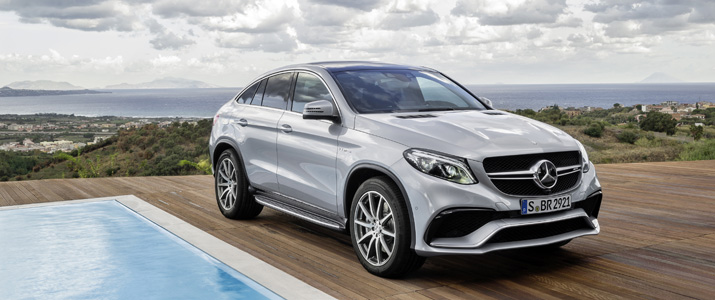 Mercedes GLE 63 Coupe design can be described as:  dominant, extrovert and joyful. This model has a distinctive «A-Wing» element in a front bumper, which is typical for most AMG sport cars. The basic version comprises of three-dimensional headlamps, entirely implemented by LEDs. The interior is renowned by sports seats covered with Nappa leather, a modified dashboard with inserts of carbon fiber and foot pedals in stainless steel.
The top version of the crossover is able to gather 100 km/h speed in 4.2 seconds, and its maximum speed is electronically limited to 250 kilometers per hour.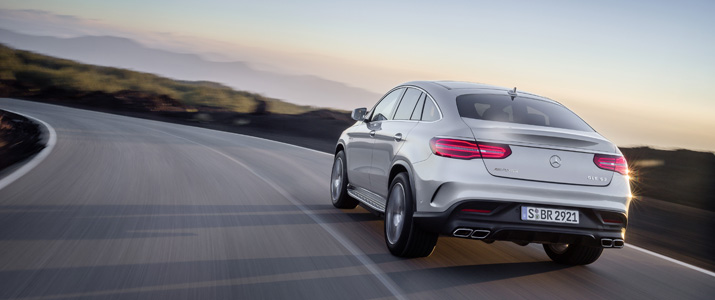 There are photos of the
interior and exterior of the car Mercedes GLE 63 Coupe
category MERCEDES posted on the site. All photos of the car Mercedes GLE 63 Coupe can be downloaded for free on the PC.