Mercedes-Benz GLA (2017-2018) Photo & Video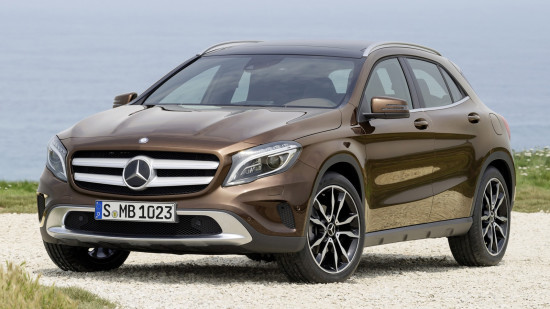 For the first time compact SUV Mercedes-Benz GLA-Class was presented to public in September 2013 at Frankfurt motor show in. Recently, in the early 2017 the model has gone through a complete renovation and celebrated its official premiere at the North American Auto Show in Detroit.
Major changes in the course of modernization have affected the appearance and electronic equipment, yet not bypassed the power line – renovated Mercedes-Benz GLA-Class got a new petrol modification.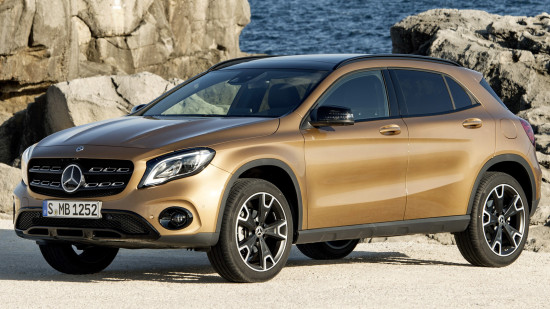 The design of Mercedes-Benz GLA Germans is a result of meticulous work. The car looks attractive, stylish and dynamic, just perfect for the young generation. The length of Mercedes-Benz GLA reaches 4424 mm, its width does not exceed 1804 mm, while its height fits into 1494 mm. The wheel base of the car stretches to 2699 mm, and its ground clearance equals 154 mm.
The interior of the new SUV is decorated in the same vein with the other models of the brand – inside the five-door crossover looks beautiful, fashionable and attractive. The center console attracts attention with a detached 7-inch touch screen of the multimedia system, successfully assembled with audio control system and "microclimate" unit.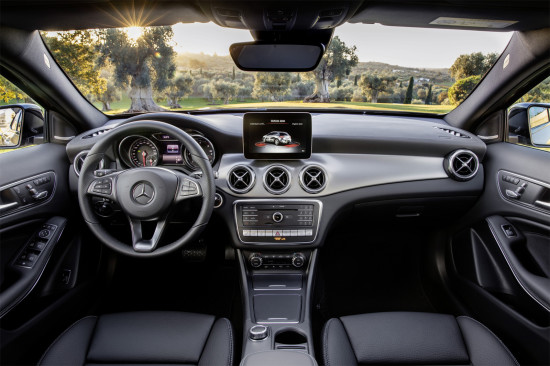 As expected from the "Mercedes" the interior of "GLA" is executed exclusively of high quality premium finishing materials. Front seats are endowed with thought-out profile with distinct lateral support rollers and a sufficient amount of adjustments while the rear sofa is molded for two people.
Lovers of the outdoor activities and frequent trips outside the city will appreciate the car trunk that can accommodate 421 liters of the payload (in the normal state) or 1235 liters (with folded rear seats). Moreover, the basic amount of luggage can be "ramped up" to 481 liters – if you order a special «Load Compartment» package.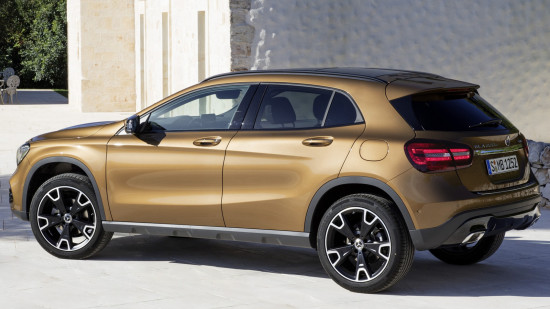 Mercedes-Benz GLA is offered with three petrol engines and a wide range of diesel units in a volume of 1.5-2.1 liters. They are combined not only with "robot", but also with a 6-speed "mechanics". Up to the first "hundred" Mercedes-Benz GLA kicks off in 7.1-8.8 seconds, and its maximum speed is limited to 215-230 km / h. Depending on modification the crossover consumes from 5.9 to 6.6 liters of fuel per 100 kilometers in a combined mode of transportation.
By default, the novelty has seven airbags, ESP, ABS, 17-inch wheels, air conditioning, multimedia center, "music" with six speakers, bi-xenon headlights, cruise control, parking sensors, "circle", heated front seats, road signs recognition, collision avoidance and assistance in moving up the hill, as well as other "bells and whistles".
There are photos of the
interior and exterior of the car Mercedes-Benz GLA (2017-2018)
category MERCEDES-BENZ posted on the site. All photos of the car Mercedes-Benz GLA (2017-2018) can be downloaded for free on the PC.