Lexus LC 500h (2016) Photo & Video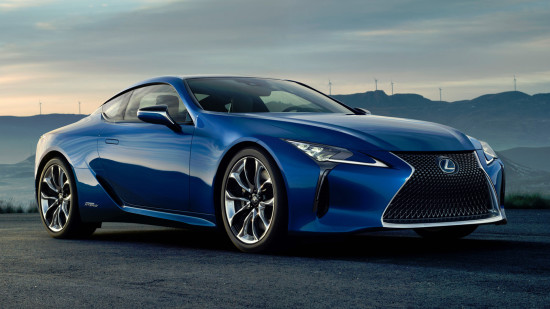 In March 2016 at the International Geneva Motor Show the Japanese Automaker has made an official debut of the hybrid sports car Lexus LC 500h. The novelty has not only embodied the the eccentric appearance and luxurious interior, but also got advanced technical component.
Externally Lexus LC 500h differs from the "petrol counterpart" merely with the nameplate, in the rest – it is still the same beautiful and incredibly cool sports car with a bold and expressive appearance, instantly eye-catching.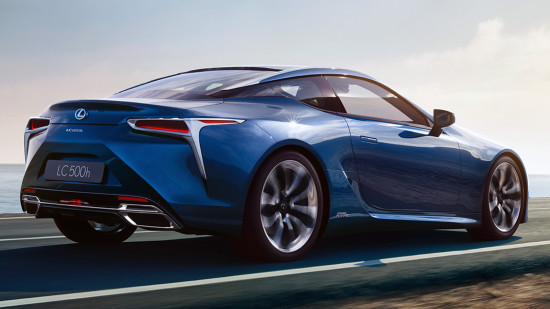 A full-size hybrid coupe has 4760 mm in length, 1345 mm in height and 1920 mm in width. The distance between the front and he rear axles of the "Japanese" amounts to 2870 mm.
Inside Lexus LC 500h repeats the standard model – the sports car interior looks luxurious and incredibly attractive, demonstrating excellent workmanship and high-tech "content." The decoration of a gasoline sports car is organized in a "2 + 2" scheme with luxurious front seats and compact rear seats.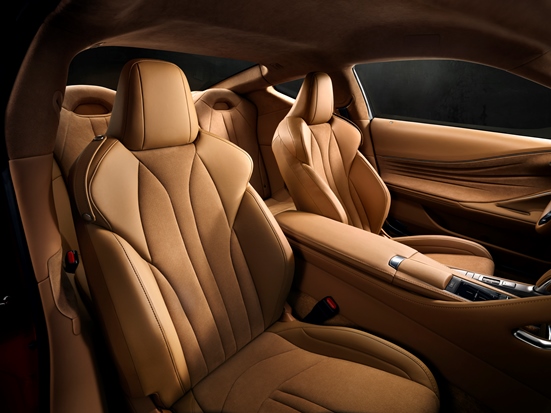 Lexus LC 500h is driven by the advanced hybrid power plant. Under the bonnet of the car hides an atmospheric V6 petrol engine with capacity of 3.5 liters, developing 299 horsepower at 6600 revolutions / minute and 348 Nm of peak thrust at 4900 rev / min.
The total output of a gasoline unit amounts to 359 "mares", and the intermediate "store" energy is a lithium-ion battery, issuing up to 44.6 kW. The coupe accelerates to the first hundred in less than 5 seconds, gaining 140 km / h in the "green mode".
By default the "Japanese" is equipped with active steering with electroamplifier and a powerful set of brakes with ventilated "pancakes" of all wheels.
Structurally Lexus LC 500h repeats the "gasoline counterpart" – at the heart of a sports car lies an architecture of GA-L with a longitudinal engine based in the front, a large proportion of high-strength steel in the body structure and independent spring-arm suspension with adaptive shock absorbers "in a circle."
Sales of Lexus LC 500h on the world's leading markets should start in 2017 – a short time after appearance on sale of the standard model. The car price has not yet been announced, but it will clearly exceed 100 thousand dollars.
In the basic configuration the novelty will receive a set of airbags, dual-zone "climate", digital instrument cluster, premium "music", advanced entertainment system, leather furnishing decorations and a large number of modern assist systems responsible for a comfortable and safe movement.
There are photos of the
interior and exterior of the car Lexus LC 500h (2016)
category LEXUS posted on the site. All photos of the car Lexus LC 500h (2016) can be downloaded for free on the PC.