KIA Stinger (2017-2018) Photo & Video
The world premiere of the serial car, which embodied the design and technical solutions borrowed from Kia GT Concept presented in 2011 rea took place in January 9th, 2017 in terms of the North American International Auto Show in Detroit.
Perhaps this is the most European car presented by KIA (in its spirit, concept and character), though with a defiant American title – «Stinger». Its exterior is obviously the strongest side of the novelty, though it combines features of several famous models. But, despite its eclecticism, the car remains recognizable and incredibly beautiful.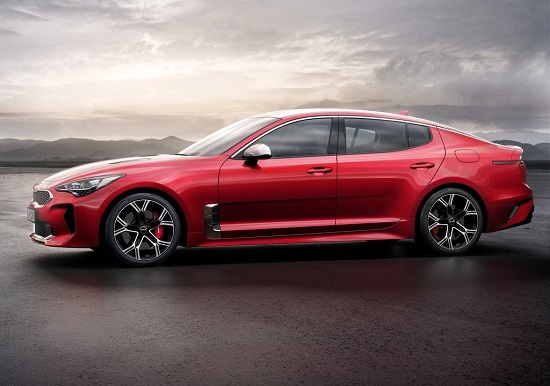 By its dimensions Kia Stinger slightly exceeds the standards of the "D"-segment: 4831 mm long, 1400 mm high and 1869 mm wide. The interior of the novelty impresses not only with a modern and noble design, but also the luxurious finishing materials and impeccable assembling quality.
The salon of Kia Stinger is organized by the five-seat scheme – solid wheelbase (2906 mm) provides the required amount of free space on each of the rows of seats. Its front seats "flaunt" with sporty profile and pronounced sides with a large set of regulations, while the back sofa thanks to a thought-out structure is able to comfortably accommodate three adult passengers.
Luggage compartment characteristics still remain unknown. However, the South Korean company reports that by this parameter the novelty is able to pass most of its competitors.
The novelty is equipped with 2.0-liter in-line "Quartet" belonging to the family of Theta II engines with a turbocharger, variable valve timing, 16 valves and direct "power", issuing 255 horsepower at 6,200 revolutions / minute and 353 Nm of torque at 1400-4000 revolutions / minute.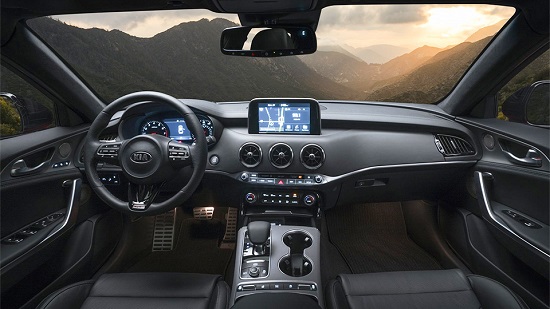 Powerful engine interacts with electronically controlled 8-step "automatic", which has five operating modes and ability to change gears via "petals" under the steering wheel and the rear-wheel drive transmission with a mechanical limited slip differential.
Kia Stinger is built on the same rear-wheel drive platform with a longitudinally mounted engine as of Genesis G80, while its body is 55% made of high-strength and ultra-high steel grades.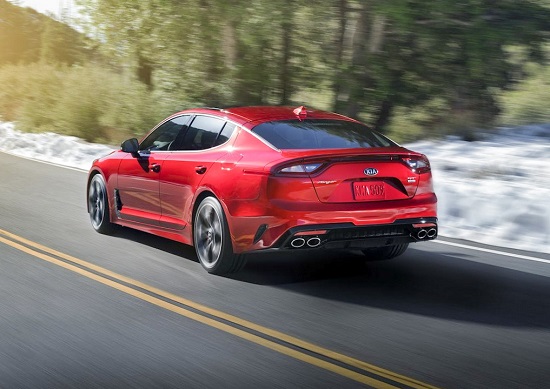 By default, Kia Stinger is equipped with a scattering of airbags, LED lights, projection display, Nappa leather interior trimming, wireless charging for smartphones, premium Harman / Kardon "music" with 15 speakers and a subwoofer, multimedia system, zonal "climate", etc.
For an extra charge the novelty might be additionally equipped with a «Drive WiSE» security complex, which combines frontal collision warning system, control of the "blind" zones, adaptive cruise control, hold in lane function, panoramic view technology and other "chips".
There are photos of the
interior and exterior of the car KIA Stinger (2017-2018)
category KIA posted on the site. All photos of the car KIA Stinger (2017-2018) can be downloaded for free on the PC.