On a special event «Go Further», organized for dealers and journalists in Cologne in the end of November, the seventh generation of hatchback Ford Fiesta was first presented to public. The manufacturer brought to the show both "standard" sports version as well as completely new "all-terrain" modification under the name "Active". The official premiere of the novelty is scheduled for Geneva International Motor show in March 2017.
Compared with the standard version externally Ford Fiesta Active is embellished with "armor" of unpainted plastic on the lower outline of the body and roof rails, but the differences go far beyond this: the all-terrain hatchback got a hexagonal "shield" grille with fine mesh structure and a slightly increased ground clearance.
Overall dimensions of the seventh generation cross-version of "Fiesta" has not yet been announced, but they will not differ greatly from those of the usual version, which is 4040 mm long (2493 mm account for the wheel base), 1495 mm tall and 1734 mm wide.
Inside, except for the contrast "decoration" on the front panel, the doors and seats in Ford Fiesta Active completely repeat those of the standard version: solid and sleek design, a lot of modern "bells and whistles" along with high quality materials. Utility feature are identical as well.
Under the hood of the "all-terrain" version of "Fiesta" hides the same engine as that of the basic model. The novelty will be brought to movement with the help of petrol atmospheric and turbocharged triple engines with the volume of 1.0-1.1 liters, issuing from 70 to 140 horsepower and a diesel 1.5 liter four-cylinder turbo engine developing from 85 to 120 "mares".
Those engine unites will be complimented with a 5- or 6-speed "mechanics" or a 6-step "automatic" with the possibility of gearshift with "petals" placed under the steering wheel (provided only for the 100hp unit).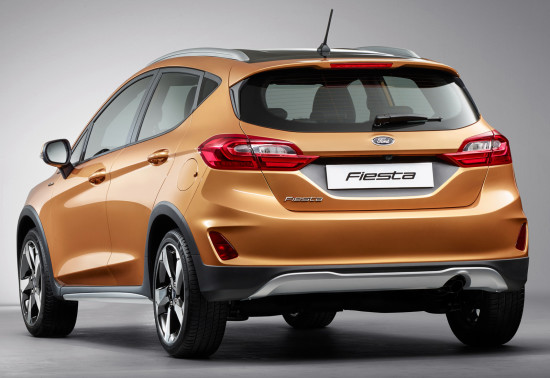 Technically Ford Fiesta Active does not differ from the standard "brother" – front-drive architecture with independent front and semi-independent rear suspension (with McPherson struts and the elastic beam, respectively), electric power steering, and ventilated front disc brakes along with "drum" mechanisms in the rear.
The cross-version "Fiesta" of the seventh generation will start conquering the Old World somewhere closer to summer 2017. As for the standard and optional equipment, the "all-terrain" hatchback will get the same rich functionality, as that of the standard model.
https://www.youtube.com/watch?v=l8wJmcVm7qA