Citroen E-Mehari (2016) Photo & Video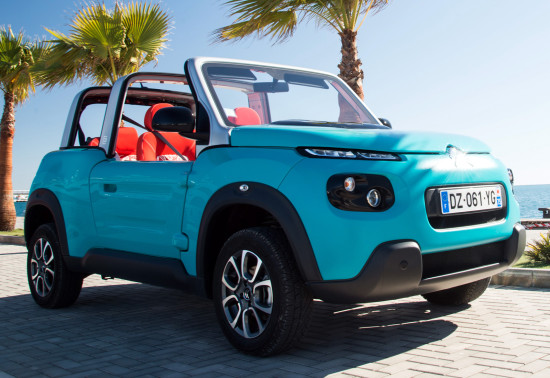 In December 2015 the French company Citroen has truly excited the automotive world when officially presented the electric cross-convertible subcompact model called E-Mehari, which "was created with an eye to a historical heritage of the brand, whilst looking into the future."
The car, which has become the serial embodiment of the show car Cactus M, has noted a full-fledged premiere in March 2016 in Geneva and the same month went on sale in the domestic market.
This is an open car decorated in the "family" style of the French brand, with a raised silhouette and solid ground clearance, which combines several features of a crossover and a buggy.
In terms of dimensions the electric vehicle is quite compact: 3809 mm long, 1653 mm high and 1728 mm wide. The distance between the wheels fits in a 2430-mm base. In a "camp" state Citroen E-Mehari weighs 1405 kg, and its full weight does not exceed 1745 kilos.
The interior of the Citroen E-Mehari is dominated by flowing forms and plain shapes. Its salon is decorated with water-resistant materials, so it can be washed right out of the hose. Citroen E-Mehari is able to accommodate four passengers, though it cannot boast with excessive free space. In addition, both rows are equipped with amorphous seats devoid of a distinct profile.
In the back of Citroen E-Mehari hides a modest load compartment, the volume of which in a standard form counts 200 liters. However, due to the folding back sofa a reserve space for luggage can be increased to 800 liters.
The French cross-cabriolet is driven by a synchronous motor with a permanent magnet, developing 68 horsepower and 140 Nm of torque potential, which directs all the traction on the front axle wheels through a single-stage automatic transmission. The power plant "feeds" on a metal-on lithium battery of 30 kW / h.
The maximum capabilities of the electric vehicle are limited to a mark of 110 km / h and the acceleration from start to 50 km / h fits in 6.4 seconds. In the urban cycle the "range" of the car reaches 200 km, and in the extra-urban cycle, this figure is much smaller – only 100 km. Full charge of the batteries at a current of 16 amps takes about eight hours, and at a current of 10 Amps the charging takes five hours more.
In France, Citroen E-Mehari is sold at a price of 25 000 euros, plus the additional 79 euros per month for the rent of its batteries. In a "base" the electric vehicle contains ABS, three-point seatbelts, ESP, ASR, waterproof and washable fabric trimming of sears, 15 inch alloy wheels, power steering, audio system with Bluetooth, USB-port and two columns, and lots of other equipment.
There are photos of the
interior and exterior of the car Citroen E-Mehari (2016)
category CITROEN posted on the site. All photos of the car Citroen E-Mehari (2016) can be downloaded for free on the PC.