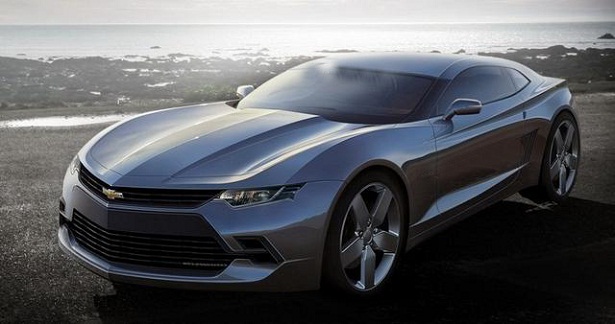 In the Mid-May of 2015 on a special event in Detroit Chevrolet presented to the public the newest "muscle car" Camaro of the sixth generation. The car has retained recognizable features, but it has become much smarter, having moved to a new "carriage", and at once lost almost a quintal of weight.
The exterior of the 6-generation Chevrolet Camaro continues to develop the motives of its predecessor, but has become more modern and more expressive. Sharp edges and aggressive narrowed optics with LED "eyelids" daytime lights together with massive rear "hips" of the original plastics bumpers and pumped "muscles" around the body form a powerful and stocky silhouette, which you will not confuse with any other sports car.
Stylish flashlights and beautiful wheel disks with dimension of 18 or 20 inches bring their final contribution to a harmonious image. Chevrolet Camaro of the 6th generation has become smaller than a predecessor by all features: the length is now 4784 mm, width – 1897 mm, height – 1348 mm, wheelbase – 2811 mm.
The interior of Chevrolet Camaro has received a significantly modified layout. The four nozzle air vent with a central couple seated at the level of the transmission lever look interesting, causing the association with "Mercedes". A truncated at the bottom steering wheel is equipped with a number of operating elements. One can choose to have a dashboard with either analog devices or a 8-inch HD display.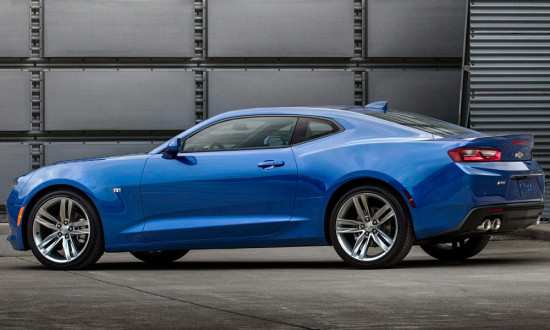 The salon air temperature and fan speed is managed in quite an interesting way – by the rings of the ventilation deflectors – so the developers managed to get rid of the buttons. What a sixth generation Chevrolet Camaro has significantly increased against the background of the fifth generation of the model is the decorative materials – sturdy plastic, fabric or leather upholstered seat, metal inserts.
A range of three petrol units is offered for the new "Camaro" and the most surprising of them is the basic one. The role of "the basic" is performed by a 2.0-liter four-cylinder turbo Ecotec unit, which is able to develop 279 horsepower at 5,600 revolutions / minute and 400 Nm of torque. Each of the engines is supplemented with a 6-speed "mechanics" or an 8-band "automatic» Hydra-Matic.
The steering wheel apparatus implies the presence of the electric amplifier. The basic version of a coupe "flaunts" with Brembo brake gears: 4-piston with 320 mm discs in front and 1-piston with 315 mm discs at the rear. "Top" models will have 345 mm and 338 mm diameters respectively.
In the fall of 2015 Chevrolet Camaro of the 6th generation will become available to the US market, while European buyers will have to wait until 2016.