Suzuki Swift is a five-door hatchback, a member of "subcompact" category ("B-class" in European standards), one of the basic models of the Japanese company for the world public. Its target audience consists of modern and active urban residents, striving to emphasize their individuality, by means of excelling in the crowd.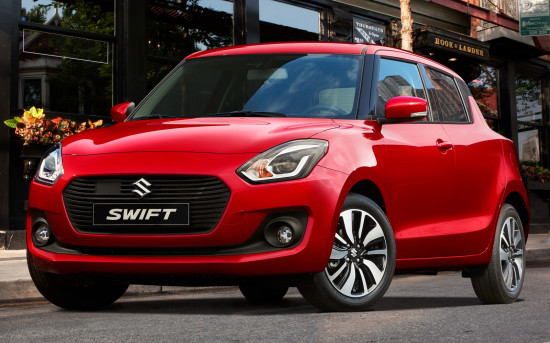 4th generation Suzuki Swift was first presented to public in December 2016 in Japan and its European premiere took place in march 2017 in terms of the International Motor Show in Geneva. After the "change of generations", the Japanese city-car has retained standard dimensions and "fighting spirit" of the predecessor, though became more spacious, underwent through a serious "diet", relocated to a new platform and acquired several interesting technical solutions.
The length of the fourth generation Swift extends to 3840 mm, and its width and height reach 1735 mm and 1495-1520 mm, respectively. The wheelbase of the novelty stretches to 2450 mm, and its ground clearance reaches from 120 to 145 mm. The "curb weight" of the upgraded hatchback varies from 840 to 970 kg, depending on modification.
The interior of the five-door demonstrates high quality of assembling, though of inexpensive materials – rigid plastics and fabric seats upholstery. Salon of the new Swift is able to comfortably accommodate four adult passengers. Front seats are presented by simple armchairs with a well-developed side profile and decent adjustment ranges, and in the back row there's a flat-shaped sofa.
The luggage compartment of a subcompact hatchback in a standard form can hold up to 254 liters of luggage. The backrest is divided into two unequal parts and significantly expands the cargo space of the car when folded.
The updated Suzuki Swift is offered with two petrol engines. The basic unit – is an atmospheric row "Quartet" Dualjet unit with the volume of 1.2 liter, 16-valve configuration and distributed fuel injection issuing 90 horsepower and 120 Nm of torque. Its "elder" brother – is a 3-cylinder 1.0-liter engine with direct Boosterjet fuel supply system, 12 valves, adjustable valve timing and a turbocharger, whose potential equals 111 "horses" and 170 Nm of peak thrust.
By default, both power units are coupled with a 5-speed "mechanics" and as an option – variable speed variator with an all-wheel drive transmission or a 6-band "automatic". To the first "hundred" the upgraded Suzuki Swift of the fourth generation accelerates in 10-12.9 seconds, eating from 3.6 to 5.6 liters per 100 km of track in the combined mode (depending on the modification).
In the European countries 4th generation Suzuki Swift will appear on sale in June 2017. In the basic configuration, the hatchback "flaunts" with: air conditioner, six airbags, leather-covered steering wheel, audio system, two electric windows, ABS, EBD, ESP, LED DRL and 15-inch wheels.
https://www.youtube.com/watch?v=3xH5fcJqX_4